~~~~~~~~~~#########~~~~~~~~~~
01-Feb-2017 must seem more like Friday The 13th. For Ukip …
~~~~~~~~~~#########~~~~~~~~~~
Posted by:
Greg Lance – Watkins
Greg_L-W
eMail: Greg_L-W@BTconnect.com
~~~~~~~~~~#########~~~~~~~~~~
.
To Spread The Facts World Wide
Clean EUkip up NOW make UKIP electable!
.
The corruption of EUkip's leadership,
their anti UKIP claque in POWER & the NEC
is what gives the remaining 10% a bad name!
.
Ukip's not having a good day I guess, as 01-Feb-2017 must seem more like Friday The 13th. For Ukip & their leadership  …
Well I Guess It Is Time For Another Series Of Ukip Leadership Elections OR
Bringing Forward The Date Of The Launch Of Arron Banks' New Party,
Propaganda for which is seemingly underway with his new online News Paper!
~~~~~~~~~~#########~~~~~~~~~~
Nigel Farage among Ukip MEPs accused of misusing EU funds | Politics | The Guardian from The Guardian's Tweet
webapps.stoke.gov.uk/uploadedfiles/SOPN-and-NOP_23_02_17-v2.pdf from Ian's Tweet
See the .pdf of candidates proving Paul Andrew Nuttall has committed a criminal electoral fraud by claiming as his address a property confirmed unoccupied and to let at the relevant date, it would seem – as per Michael Crick's investigation & photographs – obviously to panic when caught and then dash out and rent the premises is akin to the Hatton Garden burglars stealing £29M but expecting to face no charges if when caught they returned the loot!
Then of course there are the facts relative to various rapes by Ukip MEP Tim Aker CLICK HERE & HERE in October and May last year, respectively and further information at CLICK HERE
Farage 'no US work permit for Fox role' | The SKWAWKBOX from Women Defy UKIP's Tweet
Farage 'no US work permit for Fox role'
One can only imagine that Nigel Farage is not quite having the start to 2017 that he must have been expecting.

Following the referendum result, his cameo in Donald Trump's election campaign, talk of a possible role as ambassador or intermediary to the US and then the announcement of his new role as a pundit on Rupert Murdoch's Fox News, Mr Farage must have felt like he was flying high in the full, warming rays of the sun.

Instead, it seems his woes – embarrassing ones at that – are piling up.

A couple of weeks ago, in Washington with a 'golden ticket' personal invitation to attend Trump's inauguration as a VIP snug in his breast pocket, Farage was proudly looking forward to his place on the platform and to basking in Trump's reflected glow at the expensive 'after party' he had arranged in the new President's honour across a whole floor of a plush hotel.

Then, at the last minute, Trump or his team rescinded his invitation so that he was relegated to smoking a fag on a street corner while the VIPs enjoyed warm hospitality elsewhere – and then Trump failed to turn up at the party, leaving Farage to sing his praises in his absence to save face.

The SKWAWKBOX understands that Mr Farage will not be going to the US to perform his punditry role conveniently while enjoying Fox's hospitality, because his application for a work permit has been refused. This means that he will have to be filmed in a UK – or, ironically, an EU – location and beamed to the US instead.

US regulations allow work permits to be issued to foreigners for television purposes, but applicants have to meet certain qualifying criteria. There are a couple of categories under which Mr Farage might have hoped to qualify – category 'O' for television or 'P-3' for artists or entertainers. Here are the criteria:

It would appear that the US Immigration Service is not overly keen to facilitate Mr Farage's television career and considers that he is a man of no particular ability or merit, nor represents anything worthwhile culturally. Considering even Piers Morgan got one, that's quite a come-down.

If only the BBC had been as perceptive, the UK might not be in the quandary in which it now finds itself.
I understand German Police are still finalising their investigation regarding Nigel Farage's fraudulent application for a German passport CLICK HERE, a criminal action which is considered serious in Germany & earns a custodial sentence of upto 5 years – Well as an MEP Farage has been party to the EU Arrest Warrant regarding others, in the past!
The pressure & publicity of Ukip corruption escalates:
Ukip's Paul Nuttall under investigation after admitting to never having lived in his 'permanent …
Telegraph.co.uk
Paul Nuttall, Ukip's by-election candidate for Stoke Central, is under investigation after being accused of lying on his nomination form about his …
Police probe claim Ukip's Paul Nuttall broke electoral law– Daily Mail
Ukip leader Paul Nuttall under police investigation over election fraud claims –
Ukip politician forced to pay £250 after being accused of smoking 'recreational drugs' in a Cardiff …
The Sun
A UKIP politician has denied smoking recreational drugs in a Cardiff hotel – but was forced to pay £250 to get it cleaned. Michelle Brown, a Welsh …
Then of course there was the press article on 01-Feb playing catch-up with the information this web site published last year!:
This is the Ukip data extracted from a MSM article published in fuller form above but worthy of repeat as you can be assured when the order is eventually made by the EU Ukip will claim it is untrue / a mistake / a misunderstanding / victimisation / a surprise / unfair or all of these – yet leading names, including Farage, in Ukip both colluded and/or directly benefitted in the money embezzeled by Ukip MEP Tom Wise who was jailed for 2 years for his fraud, theft & embezzelment of tax payers' money.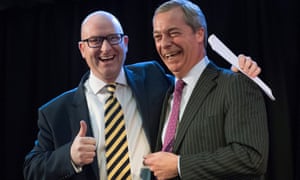 Nigel Farage, Paul Nuttall and six other Ukip MEPs are under investigation by the European parliament for alleged misuse of funds, which could lead to repayment demands totalling £500,000.

Financial controllers are looking into eight of Ukip's 20 MEPs, who are suspected of having broken rules that ban full-time EU-funded parliamentary assistants from working for the national party.

It is understood that Farage and his fellow Ukip MEP Raymond Finch will be asked to repay around £84,000 paid to their joint assistant, Christopher Adams, who is also Ukip's national nominating officer. Adams is described as one of the party's "key people" on its website. Parliament officials have suspended Adams's contract because they are not convinced he was working as an MEP assistant.

Under EU rules, full-time MEP assistants are not allowed to do paid work for a national political party; part-time assistants need to have second jobs, paid and voluntary, vetted by European parliament authorities to prevent a conflict of interest.

Financial controllers are investigating the work of several other MEP assistants, where they suspect a conflict of interest between their EU-paid job and national party role. It is understood three of the assistants worked for Nuttall, who is vying to become Ukip's second MP in Westminster in the Stoke-on-Trent Central byelection later this month.

Each of the European parliament's 751 MEPs is entitled to €23,400 a month to pay for staff to run offices in Brussels and their home constituencies, plus a further €4,342 in office expenses. If Ukip MEPs had claimed the full allowance in 2016, the total sums involved would have been €7.3m.

Farage's wife, Kirsten, is caught up in the investigation because she was paid as an MEP assistant while running her husband's office for the national party.

Kirsten Farage was named as an assistant to Finch, who represents the party in the south-east of England. He has been asked to repay more than £20,000 over her employment because the European parliament's financial controllers were not convinced she was doing real work as his assistant.

Finch employed Kirsten Farage in his constituency office to do secretarial work between 2014 and 2016. During the same period, she was full-time office manager for her husband, according to European parliament information.

Roger Helmer, a Conservative defector known for his controversial remarks on climate change and rape, faces a repayment bill of about £95,000 for employing the Ukip chairman, Paul Oakden, as his assistant. Oakden, who held the post of party director while working for Helmer, emerged into the spotlight last autumn as he sought to steady the party during the rocky period of the leadership contests to replace Farage.

One source estimated that Ukip MEPs could be asked to repay about £500,000 in EU funds if the party is shown to have broken the rules in each case currently under investigation. It is understood that the other MEPs being investigated are Jonathan Arnott, Louise Bours, James Carver and Margot Parker.

A Ukip spokesman rejected the allegations. "We have been here [as elected MEPs] since 1999 and have scrupulously applied the rules of the European parliament with very few problems. It would appear that post-Brexit there is an element of vindictiveness in the way in which the European parliament is behaving.

"We are appealing each and every one of the allegations that have been made."

Helmer, who faces the largest bill known so far, said the parliament administration had "mistakenly" got the idea that Oakden worked for him full time. "So far as I am concerned there is no case to answer – merely an administrative misunderstanding to resolve."

If MEPs refuse to repay misspent funds, parliament can withhold up to half their annual salaries (€79,332 a year after tax) and daily allowances (€52,104 a year), until the money has been recouped.

The European parliament's financial controllers began the latest checks after a separate investigation revealed that a Ukip-dominated group in the institution had misspent more than €500,000 of EU money. The Alliance for Direct Democracy in Europe, a Ukip-controlled pan-European party, was found to have spent EU funds on Nigel Farage's failed attempt to win a seat in Westminster, flouting the ban on using European money for national campaigns.

Parliament is considering extending its investigation to the 2009-14 legislature, when Ukip had 13 MEPs. The current inquiry covers the current parliament, elected in June 2014.

Ukip is not the only party accused of misspending EU money to fund its national activities. The leader of France's far-right Front National, Marine Le Pen, was last year ordered to repay €339,000, after the EU's anti-fraud office, Olaf, found she had misused EU funds following a European parliament inquiry. The French presidential hopeful had received EU funds to pay the salaries of two assistants, but the anti-fraud watchdog said the pair worked almost entirely for the national party.

The FN leader missed a deadline at midnight on Tuesday to repay the money and now faces losing half her salary and allowance. Le Pen has denied allegations of fraud and says she will not "submit to persecution" by repaying the money.

The European parliament has played a vital role in Ukip's political success, giving the Eurosceptic party a platform and funding it has never matched on the domestic stage.

A spokesperson for the European parliament declined to comment on the ongoing investigation. Olaf referred questions back to the European parliament.

Nicholas Aiossa, a campaigner at Transparency International, said the Ukip case may need to be referred to the EU anti-fraud office. "Recovery of these funds is essential, but the parliament needs to take a harder look at whether MEPs have been intentionally engaging in fraudulent activities and if so they should refer these cases to Olaf."
To view the original of this article CLICK HERE
& so it goes on – just another day on the fiddle in Ukip!
Regards,
Greg_L-W.
~~~~~~~~~~#########~~~~~~~~~~
Posted by: Greg Lance-Watkins
tel: 44 (0)1594 – 528 337
Calls from 'Number Withheld' phones Are Blocked
All unanswered messages are recorded.
Leave your name & a UK land line number & I will return your call.
'e'Mail Address: Greg_L-W@BTconnect.com
DO MAKE USE of LINKS,
>SEARCH<
&
>Side Bars<
&
The Top Bar >PAGES<

Also:

ABOUT ME, Details & Links: CLICK HERE
Accuracy & Copyright Statement: CLICK HERE
UKIP Its ASSOCIATES & DETAILS: CLICK HERE
Leave-The-EU Referendum & BreXit Process CLICK HERE
Documents, Essays & Treaties: CLICK HERE
The Hamlet of Stroat: CLICK HERE
Data & The Study of a Wind Turbine Application: CLICK HERE
Des Watkins DFC; CdeG: CLICK HERE/
The Speculative Society of Edinburgh: CLICK HERE
Stolen Kids, Dunblane: CLICK HERE
Stolen Kids, Bloggers: CLICK HERE
Views I respect & almost Totally Share: CLICK HERE
A Concept of Governance Worthy of Developement: CLICK HERE
Skype: GregL-W
TWITTER: @Greg_LW
NB:
I NEVER post anonymously on the internet
ALL MY BLOGS & WEB SITES are clearly sourced to me
I do NOT use an obfuscated eMail address to hide behind
I do NOT use or bother reading FaceBook
I DO have a Voice Mail Message System
I ONLY GUARANTEE to answer identifiable eMails
I ONLY GUARANTEE to phone back identifiable UK Land Line Messages
I do NOT accept phone calls from witheld numbers
I Regret due to BT in this area I have a rubbish Broadband connection
I AM opposed to British membership of The EU
I AM opposed to Welsh, Scottish or English Independence within an interdependent UK
I am NOT a WARMIST
I do NOT believe the IPCC Climate Propaganda re Anthropogenic Global Warming
I AM strongly opposed to the subsidy or use of failed technologies eg. WIND TURBINES
I AM IN FAVOUR of rapid research & development of NEW NUCLEAR technologies
I see no evidence to trust POLITICIANS at any level or of any persuasion
I do NOT believe in GODS singular or plural, Bronze Age or Modern
I value the NHS as a HEALTH SERVICE NOT a Lifestyle support
I believe in a DEATH PENALTY for serial or GBH rape.
I believe in a DEATH PENALTY for serial, terrorist, mass or for pleasure murder.
I believe in a DEATH PENALTY for serial gross child abuse including sexual.
I do NOT trust or believe in armed police

I do NOT believe in prolonging human life beyond reasonable expectation of sentient participatory intellectual existence

I believe in EUTHENASIA under clearly defined & legal terms

I try to make every effort to NOT infringe copyrights in any commercial way & make all corrections of fact brought to my attention by an identifiable individual
Re-TWEET my Twitterings
To Spread The Facts World Wide
~~~~~~~~~~#########~~~~~~~~~~