DO MAKE USE of LINKS,
The Top Bar >PAGES<
~~~~~~~~~~#########~~~~~~~~~~
George Cottrell May Have Cut A Deal That Might Not Suit Nigel Farage! …
~~~~~~~~~~#########~~~~~~~~~~
Posted by:
Greg Lance – Watkins
Greg_L-W
eMail:
The BLOG:
https://InfoWebSiteUK.wordpress.com
The Main Web Site:
~~~~~~~~~~#########~~~~~~~~~~
The corruption of EUkip's leadership,
their anti UKIP claque in POWER & the NEC
.
Hi,
I wonder could the revelations George Cottrell used in his plea bargain explain more about why Nigel Farage & Aaron Banks have not exploited the opportunities available, with as much frequency or enthusiasm as one might have expected, as a result of having met Donald Trump, renting a house in Washington and becoming a correspondent for Fox News.
That George Cottrell's plea bargain involved providing sensitive information, seemingly too sensitive for the judge to release yet adequate to have set aside TWENTY counts against him, including blackmail, which were dismissed as part of the plea deal with only one charge left standing.
That the likely sentence was reduced from 20 years to under 8 months, would likely indicate the revelations he made in his plea bargain were of no small consequence.
It does qive one pause for thought!
Former Farage aide gave US information in plea deal, court files show
Files do not spell out nature of information George Cottrell handed federal agents after his arrest on money-laundering charges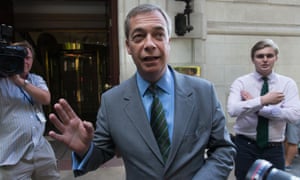 Wednesday 7 June 2017 13.52 BST Last modified on Wednesday 7 June 2017 19.54 BST
A former aide to Nigel Farage who was arrested on money-laundering charges last year gave US federal agents "information" as part of a plea agreement that sharply reduced his possible prison sentence from a maximum of 20 years to eight months, according to court documents.

George Cottrell, a Briton who was arrested in the US last summer after attending the Republican National Convention with Farage, the former Ukip leader, received a sentence that was on the low end of the sentencing guidelines used to determine such cases even though the Arizona prosecutors in his case said they had evidence that showed Cottrell had shown "clear intent" to engage in criminal activity in the past.

A court document filed by the prosecutors in February – which has not previously been reported in detail – advised the judge in the case to offer Cottrell a light prison sentence because he had been willing to "provide federal agents additional information after his arrest".

Cottrell ultimately pleaded guilty to one count of wire fraud in a case that was unrelated to his work at Ukip. The crime was committed in 2014, before Cottrell worked for either the anti-EU party or Farage. Twenty other counts against him, including blackmail, were dismissed as part of the plea deal.

The nature of the information Cottrell provided to federal agents is not spelled out in the court documents. But the documents state that the 23-year-old, who is living in the UK, provided federal agents with "additional information about his role in the offence and how he became involved". It also suggests he could be called to testify about his statements in the future and that additional information about the plea may be under seal and unavailable to the public.

Cottrell was reached by the Guardian but declined to comment on the information he provided or questions about his previous work for Farage and Ukip.

Under the terms of his agreement with prosecutors, Cottrell admitted to communicating with individuals online in 2014 who were seeking to launder illicit funds. He also admitted that he had explained methods to them that they could use to launder the money. The case involved a sting operation in which federal agents posed as drug dealers. Cottrell met the undercover agents in Las Vegas in 2014, according to the original indictment, but the charges in connection with that meeting were dropped.

Prosecutors said Cottrell also deserved leniency because he promptly agreed to plead guilty on the wire fraud charge and had accepted responsibility for his actions. They also noted that he did not have a criminal record. An attorney who represented Cottrell did not return calls for comment.

The dramatic arrest occurred at O'Hare airport in Chicago on 22 July, just as Cottrell, who was travelling with Farage, was leaving the US for the UK after attending the Republican National Convention in Ohio.

His mobile phone and laptop were seized after the arrest.

Cottrell had been working in Farage's office and claimed on his LinkedIn account to have co-directed Ukip's EU referendum campaign fundraising.

Media accounts at the time described Cottrell as a familiar face on Farage's campaign bus ahead of the EU referendum.

After the arrest, Farage called Cottrell a "22-year-old unpaid volunteer and party supporter" and said he knew nothing of the "series of allegations" that had been lodged against him.

According to court records that delved into the 2014 episode, Cottrell offered to help the undercover agents – who were posing as drug dealers – to disguise their drug profits and evade federal taxes. Prosecutors also alleged that Cottrell claimed to have contacts at banks that he could use to funnel illicit money to offshore accounts and then transfer them back to domestic accounts disguised as legitimate business income. Prosecutors said in court documents that the agents were "impressed with his knowledge of finance, US government procedures, and anti-money-laundering laws".

He was released from prison in March after agreeing the plea deal and was deported from the US, according to court records.

Several photographs published by media outlets after the arrest in July, when Cottrell's story was front page news in the British press, showed that Cottrell had enjoyed a personal relationship with Farage and the Ukip donor Arron Banks. In his book about the Brexit campaign, Banks called Cottrell, the nephew of Lord Hesketh, a former Tory minister who defected to Ukip, "Posh George".

"Posh to the point of caricature and wilfully abrasive, but extremely generous when it comes to picking up the bar tab," Banks wrote.

At the time of his final court appearance in March, the judge in his case, Diane Humetewa, described Cottrell as having lived a "very privileged life".

Twenty counts against Cottrell were dropped in the plea deal, including a conspiracy charge. Under the new charge, Humetewa said Cottrell was facing a possible sentence of eight to 14 months. She accepted prosecutors' recommendation of the lowest possible sentence.

Cottrell, who apologised for wrongdoing, suggested he had turned to crime after suffering from a multimillion-dollar gambling addiction that had caused him to be disinherited. His attorney, Michael Kimerer, described the fraud as a single aberrant, abnormal and huge mistake, and said Cottrell had been a law-abiding citizen since that period in 2014, and that he had become involved in politics, which he enjoyed.

The prosecutor in the case, James Knapp, said of Cottrell's guilty plea: "We do see this as being a significant crime in that the dark web can be a hotbed of criminal activity, and, you know, the use of anonymity and encryption and all of that makes it very difficult to catch people."

He added: "But, on the other hand, we fully recognise that there are some mitigating circumstances in this defendant, and we wish him the best of luck in the future and hope that we never see him again in this context."

The final plea concluded that investigators were ultimately unable to confirm whether Cottrell really was a professional money launderer who had committed crimes before the one to which he pleaded guilty, but that he had the experience given previous work in the financial industry, and the "predisposition", given his use of dark web marketing, to commit crime.

Cottrell's LinkedIn account reveals that he has experience in the financial sector. He includes being a "federal inmate" on his LinkedIn resume, as well as working as a consultant at an unnamed private intelligence agency serving government and corporate clients. He allegedly worked for the intelligence firm from October 2014 to July 2016, while also working for Ukip from January 2016 until his arrest.

He also claims to have worked as a private client manager at an unnamed bank, specialised in "onboarding" wealthy clients and assisting in the implementation of "leading edge tax solutions within multiple jurisdictions". He also allegedly worked as a junior adviser at Cayman fund and as a board adviser for a "private family office" in London.
To view the original article CLICK HERE
Regards,
Greg_L-W.
~~~~~~~~~~#########~~~~~~~~~~
Posted by: Greg Lance-Watkins
tel: 44 (0)1594 – 528 337
Calls from 'Number Withheld' phones Are Blocked
All unanswered messages are recorded.
Leave your name & a UK land line number & I will return your call.
'e'Mail Address: Greg_L-W@BTconnect.com
DO MAKE USE of LINKS,
The Top Bar >PAGES<
I try to make every effort to NOT infringe copyrights in any commercial way & make all corrections of fact brought to my attention by an identifiable individual
Please Be Sure To
.
.
Re-TWEET my Twitterings
To Spread The Facts World Wide
~~~~~~~~~~#########~~~~~~~~~~