~~~~~~~~~~#########~~~~~~~~~~
Looks Like Ukip Has Been Caught Stealing From The Public Purse AGAIN! …
~~~~~~~~~~#########~~~~~~~~~~
Posted by:
Greg Lance – Watkins
Greg_L-W
eMail: Greg_L-W@BTconnect.com
~~~~~~~~~~#########~~~~~~~~~~
.
To Spread The Facts World Wide
Clean EUkip up NOW make UKIP electable!
.
The corruption of EUkip's leadership,
their anti UKIP claque in POWER & the NEC
is what gives the remaining 10% a bad name!
.
.
Hi,
having watched and studied efforts made, including lies in Court & manipulation of Police by Nigel Farage's dishonest crew, aiming at framing individuals, with their false testimony and bullying, I do admit that I am unsurprised at this report.
Would that I had the clout the EU has to force them to honour the court ruling and repay the money they owe me and I do believe they owe Nikki Sinclaire 10s if not 100s of £1,000s for their conspiracy to ensnare her in their utterly dishonest efforts as it would seem they managed (so far) with Jasna Badzak.
I guess there is a possibility that what goes around comes around and their own corruption, lies and dishonesty are catching up with them. In fact I hear from OLAF today
that they are actually investigating suspect spending of upto £20Million in Ukip under Nigel Farage's leadership and we still have not seen the outcome of
Stuart Agnew and
David Bannermann's embezling as reported by The Times or the laundering of donations by Stuart Agnew and Nigel Farage via
Lord Pearson's company!
EU set to ask Ukip group to repay almost £150,000 in 'misspent funds'
Alliance for Direct Democracy in Europe is accused of misspending EU funds on party workers and Farage's bid to become MP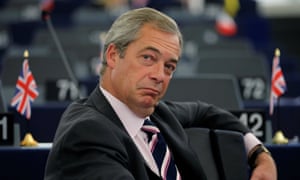 Ukip is likely to be asked to repay tens of thousands of euros by European parliament finance chiefs who have accused the party of misspending EU funds on party workers and Nigel Farage's failed bid to win a seat in Westminster.

The Alliance for Direct Democracy in Europe, a Ukip-dominated political vehicle, will be asked to repay €173,000 (£148,000) in misspent funds and denied a further €501,000 in EU grants for breaking European rules that ban spending EU money on national election campaigns and referendums.

According to a European parliament audit report seen by the Guardian, Ukip spent EU funds on polling and analysis in constituencies where they hoped to win a seat in the 2015 general election, including the South Thanet seat that party leader Farage contested. The party also funded polls to gauge the public mood on leaving the EU, months before the official campaign kicked off in April 2016.

"These services were not in the interest of the European party, which could neither be involved in the national elections nor in the referendum on national level," concluded the parliament's finance watchdog.

"The constituencies selected for many of the polls underline that the polling was conducted in the interest of Ukip. Most of the constituencies can be identified as being essential for reaching a significant representation in the House of Commons from the 2015 general election or for a positive result for the leave campaign," the report continued.

The ADDE also used EU funds for polling ahead of the Scottish and Welsh elections in 2016, the report said.

Summarising, the report stated: "The administration discovered a substantial number of activities for which financing ought to be considered as non-eligible expenditure."

Ukip rejected allegations it had broken EU rules. "We have abided by the rules at all times," a party spokesman said. The ADDE has been contacted for comment.

The report suggests the ADDE would go bankrupt without these funds, a further problem for the cash-strapped Eurosceptic group. European parties are only entitled to EU grants if they can prove they have other sources of income, such as membership dues and donations.

If the report is approved by European parliament leaders on Monday, the ADDE will be asked "to propose measures for financial improvement" within a month.

The ADDE is a pan-European political party dominated by Ukip, but includes MEPs from Germany's hard-right Alternative for Deutschland and one former member of France's Front National. The pan-European party has a far lower profile than the Europe of Freedom and Direct Democracy, another Ukip-dominated group that manages the daily business of Farage's party and his allies in the European parliament. Both have become significant sources of funding for Ukip.

Of the ADDE's 35 members, 15 are Ukip MEPs, including Farage, as well as the frontrunner to replace him, Paul Nuttall. Steven Woolfe is listed as a member on the ADDE website, although he quit Ukip last month after a public altercation with a fellow MEP that left him in hospital.

The report names three Ukip party workers who were given contracts to run Ukip opinion polls said to be funded by EU money.

The report says Christopher Lowe, better known as Chris Bruni-Lowe, Sam Gould and Daryll Pitcher were found to have done consultancy work for Ukip while being active party workers – a breach of EU rules, according to the report.

Chris Lowe received €87,000 over six months in 2015 from Ukip, while he was the party's campaign director, according to the report. Sam Gould, Ukip campaign manager for the Welsh elections and a parliamentary candidate, was given €25,000 between June and September 2015. Daryll Pitcher, another Ukip parliamentary candidate, benefitted from contracts worth €21,000 over the same period.

The report does not suggest the three men were aware they could be receiving unauthorised funds. From the work of the three consultants it was "obvious that the principal objective and the core activity of Ukip concerned the EU referendum". The analysis from the polls "was indisputably useful for Ukip" and "the financing of these polls and the thereto linked activities shall be considered as non-eligible.

"The expenditure related to them is found non-eligible as the consultants were paid for an activity that was predominantly or even purely in the interest of the national party Ukip and therefore are considered as prohibited."

The report covers 2015, so does not include the period of the EU referendum in June, or the frenzied weeks of campaigning in the spring and summer of this year. The ADDE is still entitled to €820,000 in EU funds for 2015.

The report will be presented to the European parliament's most senior MEPs at a closed session on Monday night in Strasbourg. The committee, chaired by European parliament president, Martin Schulz, is expected to approve the request for repayment.

The total €500,000 in denied expenses includes €23,000 that will be refused to Belgium's People's party, another ADDE member accused of misspending.

Parliamentary auditors are also seeking €34,000 from the Institute for Direct Democracy in Europe, a Ukip-affiliated pan-European thinktank. In this case, a Dutch political party is accused of misspending EU funds on a referendum in the Netherlands. Dutch voters rejected closer ties with Ukraine in April, in a vote seen as a victory for Eurosceptics months before the Brexit decision.

The report was drawn up as part of the annual checks on EU party finance. Other pan-European parties were given a clean bill of health earlier this year, but parliamentary authorities opened an investigation into Ukip after independent auditors refused to sign off the accounts.

The EU has been funding pan-European political parties since 2004 in an attempt to boost interest in European parliament elections. Parties are entitled to grants for conferences and European elections, but not national elections or referendums. Consultants are also meant to be independent from the parties they are working for.

Ukip spokesman Gawain Towler rejected the report's central claim that the party and ADDE group had failed to comply with EU rules. "We have been scrupulously careful and we have abided by the rules at all times." Asked about the named individuals, he repeated: "We have abided by the rules at all times."

He questioned the timing of the report, which he said neither Ukip nor the ADDE group had seen. "I do think it seems odd … You received this before we did and [the ADDE] did."

Joe Jenkins, an ADDE spokesman, accused the European parliament of trying to shut down the pan-European party and said the group would contest the claims in the European court of justice.

"The parliament administration has for months taken an aggressive and hostile attitude over the audit, amounting to nothing short of deliberate harassment," he said in a statement.

"We have responded to their queries with a mass of information and explanation justifying our activities and expenditure. They have simply ignored our submissions and in several cases these submissions having been made repeatedly on their request."

"They have broadened the definition of "expenditure supporting a political party" so widely as to deny us the right to undertake any activity which might be remotely interesting to ADDE members."
To view the original of this article CLICK HERE
Regards,
Greg_L-W.
~~~~~~~~~~#########~~~~~~~~~~
Posted by: Greg Lance-Watkins
tel: 44 (0)1594 – 528 337
Calls from 'Number Withheld' phones Are Blocked
All unanswered messages are recorded.
Leave your name & a UK land line number & I will return your call.
'e'Mail Address: Greg_L-W@BTconnect.com
DO MAKE USE of LINKS,
>SEARCH<
&
>Side Bars<
&
The Top Bar >PAGES<

Also:

ABOUT ME, Details & Links: CLICK HERE
Accuracy & Copyright Statement: CLICK HERE
UKIP Its ASSOCIATES & DETAILS: CLICK HERE
Leave-The-EU Referendum & BreXit Process CLICK HERE
Documents, Essays & Treaties: CLICK HERE
The Hamlet of Stroat: CLICK HERE
Data & The Study of a Wind Turbine Application: CLICK HERE
Des Watkins DFC; CdeG: CLICK HERE/
The Speculative Society of Edinburgh: CLICK HERE
Stolen Kids, Dunblane: CLICK HERE
Stolen Kids, Bloggers: CLICK HERE
Views I respect & almost Totally Share: CLICK HERE
A Concept of Governance Worthy of Developement: CLICK HERE
Skype: GregL-W
TWITTER: @Greg_LW
NB:
I NEVER post anonymously on the internet
ALL MY BLOGS & WEB SITES are clearly sourced to me
I do NOT use an obfuscated eMail address to hide behind
I do NOT use or bother reading FaceBook
I DO have a Voice Mail Message System
I ONLY GUARANTEE to answer identifiable eMails
I ONLY GUARANTEE to phone back identifiable UK Land Line Messages
I do NOT accept phone calls from witheld numbers
I Regret due to BT in this area I have a rubbish Broadband connection
I AM opposed to British membership of The EU
I AM opposed to Welsh, Scottish or English Independence within an interdependent UK
I am NOT a WARMIST
I do NOT believe the IPCC Climate Propaganda re Anthropogenic Global Warming
I AM strongly opposed to the subsidy or use of failed technologies eg. WIND TURBINES
I AM IN FAVOUR of rapid research & development of NEW NUCLEAR technologies
I see no evidence to trust POLITICIANS at any level or of any persuasion
I do NOT believe in GODS singular or plural, Bronze Age or Modern
I value the NHS as a HEALTH SERVICE NOT a Lifestyle support
I believe in a DEATH PENALTY for serial or GBH rape.
I believe in a DEATH PENALTY for serial, terrorist, mass or for pleasure murder.
I believe in a DEATH PENALTY for serial gross child abuse including sexual.
I do NOT trust or believe in armed police

I do NOT believe in prolonging human life beyond reasonable expectation of sentient participatory intellectual existence

I believe in EUTHENASIA under clearly defined & legal terms

I try to make every effort to NOT infringe copyrights in any commercial way & make all corrections of fact brought to my attention by an identifiable individual
Re-TWEET my Twitterings
To Spread The Facts World Wide
~~~~~~~~~~#########~~~~~~~~~~