NEWS FLASH ADDED 14-Dec-2016

~~~~~~~~~~#########~~~~~~~~~~
 Ukip's Close Friend & Well Established Criminal Allie Prof. Vladimir Bukovsky in Court! …
~~~~~~~~~~#########~~~~~~~~~~
Posted by:
Greg Lance – Watkins
Greg_L-W
eMail: Greg_L-W@BTconnect.com
~~~~~~~~~~#########~~~~~~~~~~
.
To Spread The Facts World Wide
Clean EUkip up NOW make UKIP electable!
.
The corruption of EUkip's leadership,
their anti UKIP claque in POWER & the NEC
is what gives the remaining 10% a bad name!
.
Ukip's Close Friend & Well Established Criminal Allie Prof. Vladimir Bukovsky in Court! Those with longer memories and actual knowledge of Ukip will remember Bukovsky's relationship with David Lott, Mark Croucher, Gerard Batten, Nigel Farage and various other senior Ukippers!
~~~~~~~~~~#########~~~~~~~~~~
.
Hi,
Ukip friend, advisor and active campaigner Vladimir Bukovsky has used the rather implausible defence that he was doing research, just how gullible does this so called Professor think the British Court are? Just how far his 'research' went and whether it involved actual physical harm to minors has not been established and just what research programme was he on and for whom, or was it merely for self gratification of his perversions!
Those with a long memory of this evil old man, who has downloaded over 20,000 pornographic pictures + videos of mostly young boys, many involved in S&M, claimed his research showed that they seemed to enjoy their exploitation so he didn't think it mattered!
Bukovsky tried to avoid Court by skipping to Germany, ostensibly for medical treatment, but eventually has had to surrender to Bail and faces a 4 or 5 day court case in Cambridge!
Many will remember his talks and recordings made both for and with Ukip, working closely with David Lott, Mark Croucher, Gerard Batten, Nigel Farage and others, particularly on the subject of refusing to pay the compulsory TV Tax which is passed off as a license to watch the propaganda of the State broadcaster, which is heavily subsidised by huge soft loans and free facilities by the EU, who of course fund such corrupt subsidies in many fields paid for out of the money they extort from the citizens and subjects of states unfortunate enough to be EU members.
One wonders whether Bukovsky's 'research' was shared with any of the suspected pornographers and perverts in Ukip? Or for that matter any of the other political parties with whom he may have worked – Perhaps in that he did not believe that there was any harm in his perversion, albeit against the law as he knew, would he care to show his belief in it by listing those he shared his vile interests with!
Soviet dissident had thousands of child abuse images, UK court told
Vladimir Bukovsky downloaded indecent images and films over 15-year period, Cambridge crown court hears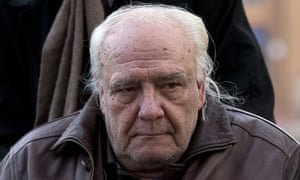 Monday 12 December 2016 14.22 GMT
The Soviet dissident Vladimir Bukovsky downloaded thousands of indecent images of children over a 15-year period, most of them featuring boys, a court has been told.

Bukovsky, 73, is charged with 10 counts of making and possessing indecent photos and one count of possessing an indecent computer-generated graphic. He denies all charges.

William Carter, prosecuting, told a jury at Cambridge crown court on Monday that Bukovsky's computer was identified during an operation by the Child Exploitation and Online Protection Centre. Police arrested him in October 2014 at his home on the outskirts of Cambridge.

Bukovsky, who was expelled from the Soviet Union in 1976, told detectives he had indecent material, the court heard. "He [Bukovsky] responded immediately by saying he did download images and that they would be on the computer in his study," Carter said.

The police subsequently discovered "a very great deal of material" on two hard drives. It showed some "very young" children up to the ages of 12 and 13. They were "largely but by no means exclusively boys", the court was told. There were some adults involved.

In an interview, Bukovsky told detectives he had become interested in child abuse images in the 1990s in the context of a debate on the control and censorship of the internet. "He became curious," Carter said. Bukovsky then looked for and discovered this material online, the prosecutor said.

"Bukovsky said his initial curiosity turned into a hobby, rather like stamp collecting," Carter said. The dissident continued to download images between 1999 and 2014, and estimated that he had accumulated a collection of "1,500 movies". His interest varied year by year. The last downloads took place days before his arrest.

"His computer was looking for material constantly," Carter told the jury. "Mr Bukovsky said in essence he didn't see what harm he was doing. He said the children in most of the material looked as if they were enjoying themselves."

The prosecution acknowledged that Bukovsky was a notable Kremlin critic seen as a hero by those who supported "the extension of human rights and democratic reform in Russia".

"There was unfortunately another side to this man, which was far from laudable: an extensive interest in real children being really abused," Carter said.

The indecent images were allegedly found on Bukovsky's laptop months before he testified at a public inquiry into the 2006 murder of Alexander Litvinenko, who was a close friend. Two Kremlin agents, Dmitry Kovtun and Andrei Lugovoi, poisoned Litvinenko in a Mayfair hotel with a cup of polonium tea.

Bukovsky told the inquiry he was "pretty sure" the Kremlin was behind Litvinenko's death. The inquiry chairman, Sir Robert Owen, concluded in January that Vladimir Putin and his former FSB spy chief Nikolai Patrushev had "probably approved" Litvinenko's death.

Bukovsky has been a longstanding opponent of Soviet and Russian power. He began his struggle against the Soviet regime in the early 1960s.

Soviet authorities eventually kicked him out of the country after he exposed the use of psychiatric treatment against political prisoners to the west. He has lived in the UK ever since.

The trial continues.
To view the original article CLICK HERE
I have deliberately NOT used much of the media reporting, although it contains more details of Bukovsky's criminality, as so much of it is utterly irresponsible being little more than a training guide giving codes, accronyms, abreviations and the like, showing how to access children involved in pornography for 'researchers' who are pervers, pederasts, pornographers and pedophiles!
The Mirror & the Mail would seem to be competing as to which provides the most helpful references for perverts/researchers which I consider not to be a matter of freedom of speech but downright irresponsible – but I guess one expects there to be a gutter press seeking to plumb the depths
NEWS FLASH ADDED 14-Dec-2016
Irrefutably shown in court by GCHQ specialist that this sordid old pervert was the only one who had put the material on his computer and computer disks – over 20,000 pornographic pictures and around 5,000 video clips.
Shortly before Bukovsky's arrest we note his friend and associate Gerard Batten changed all of his computers from mostly Dells to Apple – was this an excercise to distance himself from an operation producing and distributing child pornography via his computers? Personally based on the dishonesty and behaviour of Gerard Batten and his staff and associates over many years I believe this is more than likely and fits with loose talk I have heard over the years – in other words it would not surprise me as he is clearly a low life and a liar!
Here is a further report of the case concerning Bukovsky's criminality came at the end of the second day in Court:
Russian friend of Alexander Litvinenko accused of downloading more than 20,000 vile images of children 'could not have had his computer hacked by the Kremlin', a computer expert tells his trial 
Vladimir Bukovsky, 73, is accused of accessing indecent photos and images
A computer expert who has worked for GCHQ said he was confident the images had not been put there by anyone other than the Russian dissident 
Russian-born Bukovsky is an author and activist who became well-known internationally as a vocal critic of the Soviet regime 
By Thomas Burrows for MailOnline
Published: 16:52, 13 December 2016 | Updated: 18:42, 13 December 2016
Claims the Russian state may have been part of a hack to plant indecent images of children on the computer of a dissident living in Britain have been rejected at his trial. 

Vladimir Bukovsky, 73, of Cambridge, is accused of accessing photos and images over a 15-year period, a jury at Cambridge Crown Court was told.

A computer expert who has worked for GCHQ said he was confident the images had not been put there by anyone other than the 73-year-old. 

Vladimir Bukovsky, 73, of Cambridge, is accused of accessing photos and images over a 15-year period

The wheelchair-bound Russian is regarded as a 'hero' in Russia by pro-democracy supporters

Dr Howard Chivers, a lecturer at the University of York, examined five discs of files recovered from Bukovsky's hard drives at his home in Cambridge.

Asked by defence counsel Francis FitzGibbon QC: 'Can you completely exclude the possibility that some, if not all, of the indecent image files that were on Mr Bukovsky's computer were planted by somebody else without his knowledge?'

He replied: 'I believe I can.'
Russian-born Bukovsky is an author and activist who became well-known internationally as a vocal critic of the Soviet regime.

He spent 12 years in Soviet prisons, forced-labour camps and psychiatric hospitals, which were used by the authorities to incarcerate political dissidents and submit them to compulsory treatment to 'cure' their beliefs.

The wheelchair-bound Russian is regarded as a 'hero' in Russia by pro-democracy supporters.  

Mr FitzGibbon put it to Dr Chivers as the trial continued at Cambridge Crown Court: 'Are you aware of this, that the Russian state or organs of the Russian state use computer hacking in various forms to advance their interests in other parts of the world?'

Dr Chivers said it did not require 'secret knowledge' as it had been widely reported.

Mr FitzGibbon also asked him: 'Are you aware that much of the child pornography and child sexual abuse imagery that appears online is controlled by crime gangs in Russia and Eastern Europe?'

Dr Chivers said such material was controlled by gangs all over the world, not limited to Russia and Eastern Europe.

Bukovsky told police he became curious at the end of the 1990s about issues involving control of and censorship of the internet and decided to look into what was available online

Bukovsky denies five counts of making indecent images of children, five of possessing indecent images of children and one of possessing a prohibited image of a child. 

On Monday the court heard the pensioner, who was living alone in Cambridge when he was arrested, said it had become something of a hobby, comparing it to stamp collecting. 

Bukovsky, a friend of Alexander Litvinenko, told police he had been researching the images and videos out of 'social' curiosity and not for sexual gratification, according to an agreed summary of his interview which was read to the court.

He said he became interested in the debate around internet censorship at the end of the 1990s and wanted to see if child pornography was as widely available online as people claimed. 

He said he did not believe searching for and having the material was criminal or causing any harm.

He referred to sadomasochistic imagery he had seen and told officers he was convinced it was staged because the children taking part appeared to be 'giggling'.

On the prospect of going to jail for having the images he told police he did not care 'a single jot'

Bukovsky acknowledged what he was doing would have been and is forbidden in his native country, but expressed reservations about censorship.

He told police: 'I lived through that, I was part of it. I know that censorship never works.'

On the prospect of going to jail for having the images he told police he did not care 'a single jot'.

He added: 'I did not commit any crime in my heart.' 

The trial was adjourned until Wednesday. 
You will note Bukovsky has chosen to attend court in a wheelchair and pushing that wheel chair, as shown in media photographs, is Gerard Batten's employee Pavel Stroilov, as shown at CLICK HERE. Who else in Gerard Batten's team and Ukip is embroilled in this vile case?
This story CLICK HERE seems most apposite as a cover for Batten's system rewrite of his computers after Bukovsky's arrest! The plausibility of Batten's claims is undermined on several counts, firstly his self proclamation of this nasty little racists significance as a critic of Russia, then there is the brevity of his chance meeting in 2006 with Letvinenko – who gives a **** what the odious racist Batten's view on the murder was.
It is worthy of note that the evidence led in the media, by way of a photograph of Batten with his computer showing that the web site was missing, as it was 'under construction'! A term I have put on my own computer from time to time when working on the site.
Fortunately the work I am currently doing, to extend my services, is not interrupting service and I hope to go live with a huge improvement in the near future – wish me luck!
Now despite originally stating in court that 'he downloaded the material as he was doing research and didn't know it was wrong', this evil old man Bukovsky is now trying to claim the material was put on his computer by Russian intelligence services to incriminate him – as the lie was disproved he has now panicked and played the medical card! This has helped him little as he is merely rescheduled to appear in court in January!!
There is much more to come on this story of this small group of Ukippers, I believe, and let us not forget that Gerard Batten tried very hard to trump up a pack of lies about me, and was at one stage openly boasting he would shut me down and bankrupt me (when I was publishing facts about him and Ukip). So far his lies have failed despite his contacts and friends. Just as did Ukip's MEP Tom Wise, when he spent £8,000 of the money he stole from the taxpayers on fees for his solicitor, in an effort to invent lies and a case against me, prior to his being found guilty and sent to prison for his thefts!
My defence has always been 'VERITAS'!
Here is an item which displays how close Vladimir Bukovsky's association with Gerard Batten is, and also how willingly he lies on behalf of Batten, as it is a matter of public record just how willing Batten is to publish material, which is inclined towards hate speech, with regard to those whose chosen superstition is Islam, most likely as his wife is a Filipino Catholic brought up in the doctrinal guidance of Cardinal Sin!:
IN THE EMPLOYMENT TRIBUNALS                                        3201867/2011

 EAST LONDON HEARING CENTRE


Before Employment Judge Goldman

BETWEEN:


X

                                    Claimant

 -v-

 Y

                                    Respondent

_______________________________________________

Statement of Vladimir BUKOVSKY

 _______________________________________________

 

I, Vladimir Bukovsky of 145 Gilbert Road, Cambridge CB4 3PA, SAY as follows

I am well-known former Soviet dissident. I was held as political prisoner in the Soviet Union in total for 12 years in the 1960s and 1970s and was famously exchanged for a Chilean Communist leader in 1976. I live in the UK since 1978 and as a naturalized British citizen since 1990.  I have been playing some role in the Russian democratic and was nominated as an opposition candidate in the 2008 presidential elections in Russia.  I am also known as a critic of the European Union and a patron of the UK Independence Party.

I have the privilege of knowing Mr Gerard Batten fairly well. I first met him just after he was elected an MEP in 2004.  I kept in touch with him ever since, met him on numerous occasions and have worked with him on various political issues.  I am certainly in the position to vouch for his personal honesty and integrity.

I am not familiar with the details of this case but I know that claimant makes wide-ranging accusations against Gerard, including allegations of racism, prejudice against Russians and Slavs in general, against Muslims etc. In all my years of knowing Gerard, he has never displayed any such prejudices against any race, ethnicity or religion.  Nor was he ever disrespectful to any degree towards any person on account of their race, ethnicity r religion.

He has also met many of my Russian friends as well as one Muslim friend, and I know that all people, without exception formed a very high opinion of him.

I find any allegations that Gerard is racist or prejudiced against any race or religion totally incredible and I would not hesitate to condemn his accuser as a liar without any need to make further enquiries into the matter.

I can confirm that the facts in this statement are true to the best of knowledge, understanding and belief

Vladimir Bukovsky

2 December 2011
You will also note I have ALWAYS undertaken to correct any consequential error I have EVER posted, if it is shown I was materially and consequentially wrong – never once, in the many 1,000s of postings about Ukip, have Ukip their staff or personnel EVER shown an example where I was wrong in that which I published. See CLICK HERE.
Regards,
Greg_L-W.
~~~~~~~~~~#########~~~~~~~~~~
Posted by: Greg Lance-Watkins
tel: 44 (0)1594 – 528 337
Calls from 'Number Withheld' phones Are Blocked
All unanswered messages are recorded.
Leave your name & a UK land line number & I will return your call.
'e'Mail Address: Greg_L-W@BTconnect.com
DO MAKE USE of LINKS,
>SEARCH<
&
>Side Bars<
&
The Top Bar >PAGES<

Also:

ABOUT ME, Details & Links: CLICK HERE
Accuracy & Copyright Statement: CLICK HERE
UKIP Its ASSOCIATES & DETAILS: CLICK HERE
Leave-The-EU Referendum & BreXit Process CLICK HERE
Documents, Essays & Treaties: CLICK HERE
The Hamlet of Stroat: CLICK HERE
Data & The Study of a Wind Turbine Application: CLICK HERE
Des Watkins DFC; CdeG: CLICK HERE/
The Speculative Society of Edinburgh: CLICK HERE
Stolen Kids, Dunblane: CLICK HERE
Stolen Kids, Bloggers: CLICK HERE
Views I respect & almost Totally Share: CLICK HERE
A Concept of Governance Worthy of Developement: CLICK HERE
Skype: GregL-W
TWITTER: @Greg_LW
NB:
I NEVER post anonymously on the internet
ALL MY BLOGS & WEB SITES are clearly sourced to me
I do NOT use an obfuscated eMail address to hide behind
I do NOT use or bother reading FaceBook
I DO have a Voice Mail Message System
I ONLY GUARANTEE to answer identifiable eMails
I ONLY GUARANTEE to phone back identifiable UK Land Line Messages
I do NOT accept phone calls from witheld numbers
I Regret due to BT in this area I have a rubbish Broadband connection
I AM opposed to British membership of The EU
I AM opposed to Welsh, Scottish or English Independence within an interdependent UK
I am NOT a WARMIST
I do NOT believe the IPCC Climate Propaganda re Anthropogenic Global Warming
I AM strongly opposed to the subsidy or use of failed technologies eg. WIND TURBINES
I AM IN FAVOUR of rapid research & development of NEW NUCLEAR technologies
I see no evidence to trust POLITICIANS at any level or of any persuasion
I do NOT believe in GODS singular or plural, Bronze Age or Modern
I value the NHS as a HEALTH SERVICE NOT a Lifestyle support
I believe in a DEATH PENALTY for serial or GBH rape.
I believe in a DEATH PENALTY for serial, terrorist, mass or for pleasure murder.
I believe in a DEATH PENALTY for serial gross child abuse including sexual.
I do NOT trust or believe in armed police

I do NOT believe in prolonging human life beyond reasonable expectation of sentient participatory intellectual existence

I believe in EUTHENASIA under clearly defined & legal terms

I try to make every effort to NOT infringe copyrights in any commercial way & make all corrections of fact brought to my attention by an identifiable individual
Re-TWEET my Twitterings
To Spread The Facts World Wide
~~~~~~~~~~#########~~~~~~~~~~