Surprise, Surprise – #Ukip Leadership Are Fighting Like Ferrets In A Sack – This Time In Wales (Again) …
Posted by Greg Lance - Watkins (Greg_L-W) on 18/06/2018
DO MAKE USE of LINKS,
>SEARCH<
&
>Side Bars<
&
The Top Bar >PAGES<
~~~~~~~~~~#########~~~~~~~~~~
.
Surprise, Surprise – #Ukip Leadership Are Fighting Like Ferrets In A Sack – This Time In Wales (Again) …
.
~~~~~~~~~~#########~~~~~~~~~~
Posted by:
Greg Lance – Watkins
Greg_L-W
eMail:
Greg_L-W@BTconnect.com
The BLOG:
https://InfoWebSiteUK.wordpress.com
~~~~~~~~~~#########~~~~~~~~~~
The corruption of EUkip's leadership,
their anti UKIP claque in POWER & the NEC
.
Hi,
Mandy Jones suspended from UKIP following criticism of Wales' party leader Neil Hamilton
Mandy Jones has been suspended for comments she made about UKIP's party leader in Wales, Neil Hamilton.

The North Wales assembly member is member of the UKIP party but sits as an independent in the Assembly.

Last week, she objected to Mr Hamilton being appointed to the Assembly Commission which is responsible for AMs' staff because he had not supported a policy on dignity and respect in the Assembly.
There are many reasons why I would object to Neil Hamilton becoming a Commissioner. However, the reason I wish to put on record is that, on 16 May, Neil Hamilton abstained on the vote in support of the emerging dignity and respect policy. The main crux of his argument appeared to be that it should only apply part of the time. Becoming an Assembly Member is an honour, and it should be respected as such. It is not a part-time job. The Nolan principles and the code of conduct, which we all promised to abide by when we were sworn in, do not get shrugged off like a wet coat when they become too uncomfortable. I do not see how his position is compatible with the role of Assembly Commissioner.

Credit: PA Images

In response to the objection, Neil Hamilton defended his actions.

We disagree honourably amongst each other in a democratic Assembly, and we're entitled to take different views on the desirability of proposed courses of action. That doesn't mean that any of us condones the kind of conduct, behaviour or words that are reprehensible or opprobrious and are likely to cause egregious offence, and still less those that are racist or whatever.

– Neil Hamilton AM, Leader of UKIP in Wales

The Party Secretary has the right to suspend or expel members who clearly bring the Party into disrepute by association with or membership of an organisation, membership of which the NEC has declared to be incompatible with membership of the Party or establish a group in opposition to an official UKIP group.

In an unprecedented move, assembly members then voted to reject Neil Hamilton as UKIP's nomination to the Assembly Commission.

The party's AMs will now have to decide whether to try again or put forward a different name.
6/6 What she did opposing his nomination was 'an expulsion offence so I have no doubt that she will be expelled.'
1 reply
0 retweets
0 like
5/6 He insists he didn't instigate the disciplinary process against @MandyJonesAM but he backs it. It's irrelevant that she's not a group member. UKIP constitution says members shouldn't campaign against UKIP nominees for a position
1 reply
0 retweets
0 likes
4/6 If he loses, he'll accept the verdict of the party and will remain in the UKIP group
1 reply
0 retweets
0 likes
3/6 He will stand in the contest against @carolineUKIP He believes he's best qualified to do the job of challenging Carwyn Jones
1 reply
0 retweets
0 likes
2/6 The national ballot for Assembly group leader will 'put an end to this kind of squabbling.' There wasn't one when he took the rôle because they were newly elected & were in the middle of the EU referendum. It would have better if they had held one.
2 replies
0 retweets
0 likes
1/6 I've just interviewed @NeilUKIP about the Assembly leadership debacle and @MandyJonesAM suspension. It'll be online shortly but here are some of the most interesting lines:
1 reply
0 retweets
0 likes
Hearing there was a tense UKIP group meeting tonight. I'm led to believe UKIP's deputy leader Mike Hookem told AMs the'll be a ballot of Welsh members to decide leader of the Assembly group. This after Caroline Jones ousted Neil Hamilton for the job last month.
2 replies
2 retweets
0 likes
UKIP has suspended @MandyJonesAM – who sits in the Assembly as an independent – as a party member and triggered a disciplinary investigation following criticism that she made of former group leader (and current UKIP Wales leader) Neil Hamilton.
0 replies
3 retweets
0 likes
My last tweets were done hastily so here is a recap:
0 replies
0 retweets
0 like
A spokesperson for @MandyJonesAM says she 'stands by what she said in the Chamber last week and has no regrets. The majority agreed with her. UKIP has lost nothing – they simply need to field an appropriate candidate for the role.'
1 reply
6 retweets
4 likes
She'll be entitled to address she disciplinary hearing but until then is no longer a member of UKIP.
1 reply
1 retweet
0 likes
It is for these reasons that the chairman has taken the decision to suspend you using his emergency powers granted to him under constitutional provision 11.9 – 11.11.
1 reply
1 retweet
0 likes
Adding, 'These actions are in stark contrast to the rules governing elected members'
1 reply
0 retweets
0 likes
He says 'this was all a quite unnecessary and extremely harmful at a temperamental time.'
1 reply
0 retweets
0 likes
In his letter UKIP's party secretary refers to criticism by @MandyJonesAM of Neil Hamilton during a debate on a possible role for him as an Assembly commissioner.
1 reply
1 retweet
0 likes
UKIP has suspended @MandyJonesAM and triggered a disciplinary hearing for comments she made about @NeilUKIP in the Senedd last week. She's not a member of the UKIP Assembly group.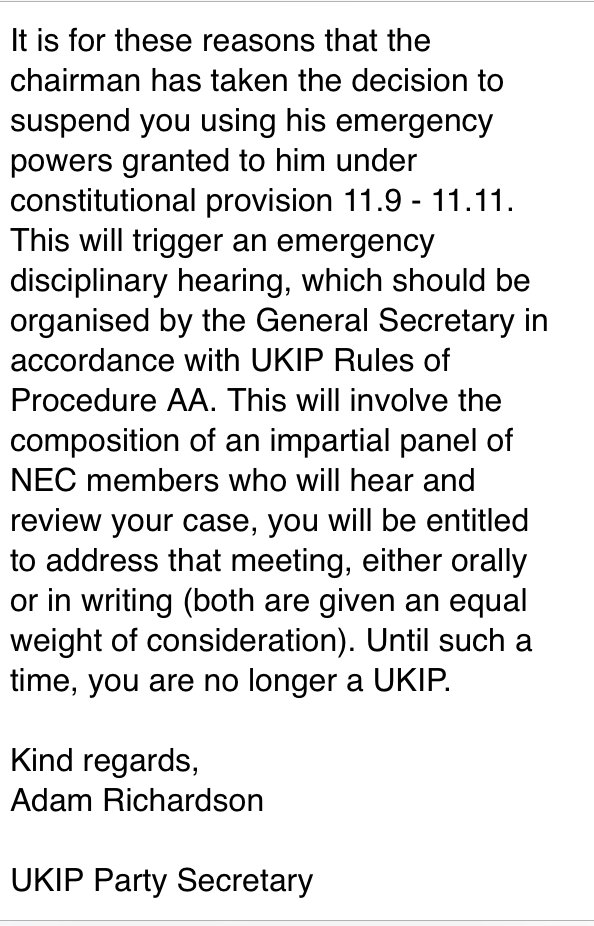 2 replies
4 retweets
2 likes
Regards,
Greg_L-W.
~~~~~~~~~~#########~~~~~~~~~~
Posted by: Greg Lance-Watkins
tel: 44 (0)1594 – 528 337
Calls from 'Number Withheld' phones Are Blocked
All unanswered messages are recorded.
Leave your name & a UK land line number & I will return your call.
'e'Mail Address: Greg_L-W@BTconnect.com
DO MAKE USE of LINKS,
The Top Bar >PAGES<
I try to make every effort to NOT infringe copyrights in any commercial way & make all corrections of fact brought to my attention by an identifiable individual
Please Be Sure To
.
.
Re-TWEET my Twitterings
To Spread The Facts World Wide
~~~~~~~~~~#########~~~~~~~~~~
This entry was posted on 18/06/2018 at 21:27 and is filed under EU, EUkip, GL-W, GLW, Greg Lance - Watkins, Greg_L-W., UKIP. Tagged: EUkip, GL-W, GLW, Greg Lance-Watkins, Greg_L-W, UKIP. You can follow any responses to this entry through the RSS 2.0 feed. You can leave a response, or trackback from your own site.