The Farcical Claims Of Being Skint By #Farage Have Moved some £35K Closer To The Truth Under The #EU's Repayment Demands! …
Posted by Greg Lance - Watkins (Greg_L-W) on 13/01/2018
DO MAKE USE of LINKS,
>SEARCH<
&
>Side Bars<
&
The Top Bar >PAGES<
~~~~~~~~~~#########~~~~~~~~~~
 .
The Farcical Claims Of Being Skint By #Farage Have Moved some £35K Closer To The Truth Under The #EU's Repayment Demands! …
 .
~~~~~~~~~~#########~~~~~~~~~~
Posted by:
Greg Lance – Watkins
Greg_L-W
eMail:
Greg_L-W@BTconnect.com
The BLOG:
https://InfoWebSiteUK.wordpress.com
~~~~~~~~~~#########~~~~~~~~~~
The corruption of EUkip's leadership,
their anti UKIP claque in POWER & the NEC
.
Hi,
minded of the source of this article, about which we have been aware for some time and the subject of which we were first alluding to way before Christmas, it becomes increasingly obvious, it would seem, that Nigel Farage and his chums have no further use to the Russians.
You may recall we wrote of our understanding of the source of much of the money that funded several houses for Farage on the continent, including just outside St. Tropez, one in Tuscany and others.
You will also recall Farage, Banks, Wigmore & Raheem Kasam were scheduled to attend Trump's inaguration and despite the low turnout for the inaguration they suddenly found their invitations had been withdrawn and they were left to have a rather sad visit sheltering by a vendors stall outside of the perimitter looking in, followed by a party with a few nebishes and nobodies and hotel staff in the resplendent Washington hotel ballroom they had hired – kind of much ado about nothing.
Then remember we announced we had been reliably informed Farage had been interviewed on or about 19th. December by Mueller regarding the two visits by private plane to Russia that he had made, which foolishly I believe he denied under the misconception there would be no record of his visits as they were by private plane, when experienced travellers would have realised flight plans & passenger manifests pertain even to private jets!
Then of course there was the plea bargain by George Cottrell (If you need to play catchup try CLICK HERE and also follow the links!), I'm given to understand from sources that have proved reliable in the past, this led to details of around 20 wire frauds and at least another 50 cases of money laundering.
You may remember the widely reported fact that #Farage & Banks were classified as individuals of interest some time ago by the FBI and US NSA.
Then of course there were the regular contacts with Julian Assange and release of records obtained by Farage that were believed to have been acquired by Russia and supplied via Assange to Farage for Trump – The Hillary leaks!
For someone who has worked for the Russians for a number of years to be so clearly 'thrown to the wolves', as Farage would seem to have been, is an interesting reflection on loyalty amongst scoundrels – obviously Farage & Fuller's mutual abuse and exploitation is yet another!
Russian media now seems to display very little sympathy for their once enthusiastic runners! I gather they don't much care about his various mistresses or his wife and other parasites in the party who are having to repay their ill gotten gains also!
Clearly money is a very large part of the motivation of the likes of these types of individual and loyalty is just a commodity to be bought and sold as clearly so is sex for many of them!
Nigel Farage has MEP salary docked to £35k amid claims of EU funds misuse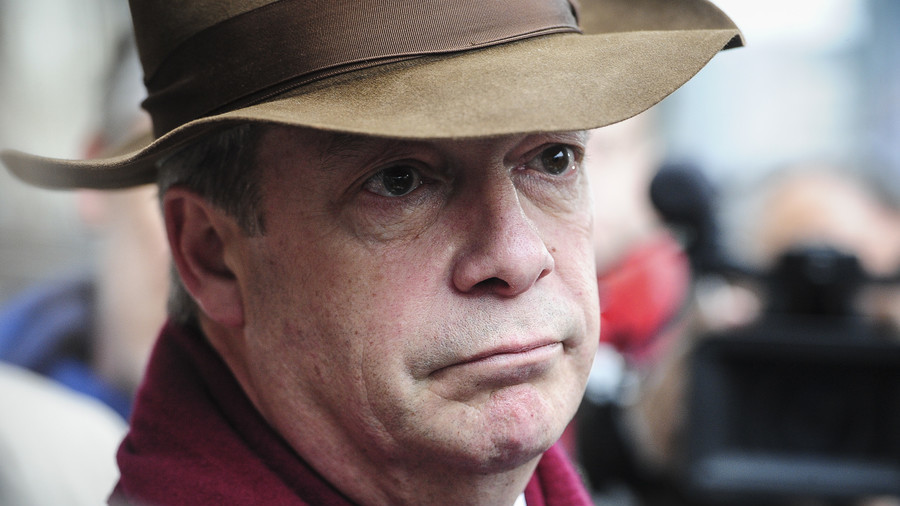 © Wiktor Dabkowski/ Global Look Press
Former UKIP leader Nigel Farage will have his MEP's salary slashed by 50 percent to £35,000 (US$48,000) after a European Parliament investigation found he had misused EU funds.
Farage, who has recently described himself as "skint," was being investigated by the European Parliament after allegations were made last February that he, as well as seven other UKIP MEPs, used European funds to finance his party office.

The investigation found that Christopher Adams, besides being Farage's personal parliamentary assistant, was also carrying out work for the Euroskeptic party as its national nominating officer.

Under current EU rules, full-time assistants to MEPs are not allowed to do paid work for national parties, while part-time assistants must have their second jobs, even voluntary ones, vetted by the European Parliament watchdog to prevent conflicts of interest.

Amid concerns over his "key role" in UKIP, auditors suspended Adams' contract.

As Farage has reportedly failed to provide proof of Adams' work as parliamentary assistant, the EU is now docking the Brexiteer's pre-tax monthly pay of €8,484 (US$10,328) per month in a bid to recoup the lost funds. He will have paid back his "debt" by October 2018.

"Since 1 January [2018] the European parliament has withheld 50 percent in order to recoup the €40,000 (US$48,692) due in salary that was paid to Christopher Adams and which cannot be proved by Farage," a parliamentary source told the Guardian.

A spokeswoman for the European Parliament said she could not officially confirm details regarding Farage's salary.

But, if MEPs fail to "provide any justification or proof" that their funded assistants are only carrying out EU-related duties, "then the administration may recover the money by withholding part of the MEP's salary."

A spokesman for the Eeuroskeptic Europe of Freedom and Direct Democracy Group (EFDD) told the Independent: "There is a vindictive campaign by the European Parliament of selective persecution of Euroskeptic MEPs, parties and groups. This allegation is all part of their politically-motivated assault."  

Farage, who spearheaded the Brexit campaign, recently made headlines by claiming he has every right to his EU salary.

Denying claims of hypocrisy given his persistent pro-Brexit rhetoric, he said: "Why should my family suffer?"

"I have just voted to get rid of my job. I was the turkey that voted for Christmas. How is that hypocrisy?" he told the BBC's Andrew Marr show.
To view the original article CLICK HERE
Regards,
Greg_L-W.
~~~~~~~~~~#########~~~~~~~~~~
Posted by: Greg Lance-Watkins
tel: 44 (0)1594 – 528 337
Calls from 'Number Withheld' phones Are Blocked
All unanswered messages are recorded.
Leave your name & a UK land line number & I will return your call.
'e'Mail Address: Greg_L-W@BTconnect.com
DO MAKE USE of LINKS,
The Top Bar >PAGES<
I try to make every effort to NOT infringe copyrights in any commercial way & make all corrections of fact brought to my attention by an identifiable individual
Please Be Sure To
.
.
Re-TWEET my Twitterings
To Spread The Facts World Wide
~~~~~~~~~~#########~~~~~~~~~~
This entry was posted on 13/01/2018 at 00:09 and is filed under EU, EUkip, GL-W, GLW, Greg Lance - Watkins, Greg_L-W., UKIP. Tagged: Annabell FULLER, Arron Banks, EU FRAUD, EUkip, Farage Fraud, George Cottrell, GL-W, GLW, Greg Lance-Watkins, Greg_L-W, Nigel Farage, POTUS Inauguration, Russian Money, Trump. You can follow any responses to this entry through the RSS 2.0 feed. You can leave a response, or trackback from your own site.