DO MAKE USE of LINKS,
>SEARCH<
&
>Side Bars<
&
The Top Bar >PAGES<
~~~~~~~~~~#########~~~~~~~~~~
.
#Nigel_Farage faces Repaying Yet Another £80,000 to #EU …
 .
~~~~~~~~~~#########~~~~~~~~~~
Posted by:
Greg Lance – Watkins
Greg_L-W
eMail:
Greg_L-W@BTconnect.com
The BLOG:
https://InfoWebSiteUK.wordpress.com
~~~~~~~~~~#########~~~~~~~~~~
The corruption of EUkip's leadership,
their anti UKIP claque in POWER & the NEC
.
Hi,
The EU Has Demanded Another Bill… This Time £80k From Nigel Farage
20 July 2017, 20:35
https://player.ooyala.com/iframe.html?ec=IxeGgwYzE6esKyOM62MHfgVTZ7FdFfgQ&platform=html5-priority&options%5Bautoplay%5D=true&pbid=cf5340d5856f480b8ddc5ddddeec458b&options%5Bcss%5D=&options%5Bliverail-ads-manager.LR_LAYOUT_LINEAR_PAUSEONCLICKTHRU%5D=1&options%5Bliverail-ads-manager.LR_AUTOPLAY%5D=1#amp=1
Nigel Farage Defends Himself Against Unexpected 80k EU Bill
The European Union has demanded another bill… and this time it's £80,000 of Nigel Farage's own money.

The MEP recently received a letter stamped by the European Parliament telling him he was being unexpectedly charged the mammoth amount.

It's all over a quibble that one of Nigel's staff who helps represent him as an MEP also held a post in Ukip at the same time.

The LBC presenter confirmed this was the case, but argued he had done nothing wrong as the staff member worked for Ukip on a voluntary basis.

"But they're not happy with that," Nigel said.

"So without any meeting. Without any request to me to provide evidence. Without any formal procedure of any kind at all, the letter tells me they're going to take £80,000 from me."

He continued: "And it's now my job to prove my innocence and so what we're actually dealing with here, these unelected people are behaving frankly like people back in Stalin's day did."
To view the original article CLICK HERE
The comments of Ukip its spokesmen & on LBC are of course, as ever, totally dishonest or at best deliberately misleading when you consider the following:
Perhaps someone can explain why Nikki Sinclair was dishonestly prosecuted and persecuted by British Police, seeking a custodial sentence over an alleged sum of about £3,000 mis-spent based on evidence dishonestly and criminally concocted by John Ison in apparent collusion with Nigel Farage, as boasted of in Court by John Ison!
The case against Nikki Sinclaire totally collapsed and was shown to be utter rubbish based on the lies & criminality of John Ison & the attrocious incompetence & collusion in the crtiminality of Ison & seemingly Farage, of the British Police & CPS – at an estimated cost of £1.5Million!
I understand that just over a week ago ONE YEAR after Nikki Sinclaire was totally exhonerated without any compensation or damages for the Police & CPS collusion in her quite deliberate and undeniably criminal persecution, a formal complaint has been instigated!
EXTRACT OF A POSTING OF 01-Feb-2017 on this web site!:
A UKIP politician has denied smoking recreational drugs in a Cardiff hotel – but was forced to pay £250 to get it cleaned. Michelle Brown, a Welsh …
Then of course there was the press article on 01-Feb playing catch-up with the information this web site published last year!:
This is the Ukip data extracted from a MSM article published in fuller form above but worthy of repeat as you can be assured when the order is eventually made by the EU Ukip will claim it is untrue / a mistake / a misunderstanding / victimisation / a surprise / unfair or all of these – yet leading names, including Farage, in Ukip both colluded and/or directly benefitted in the money embezzeled by Ukip MEP Tom Wise who was jailed for 2 years for his fraud, theft & embezzelment of tax payers' money.
You may well remember Tom Wise gave Nigel Farage several £1,000s of the money he had stolen AFTER it was public knowledge he had stolen the money! Farage spent the money settling an undertaking made to me that he paid Lindsey Jenkins for the right to claim sponsorship of one of her books – a payment he made to appear more of a politician of gravitas and responsibility, more than we who know him are well aware that he is as a glib incompetent deceitfull motormouth!
Also you will remember Tom Wise spent some £8,000 of the tax payers' m,oney he had stolen trying to silence the truth by endeavouring to bankrupt me! Just as have Ukip, Gerard Batten and Mark Croucher, fortunately I have always had the very sound defence of 'veritas' on my side – as I have ALWAYS sought to publish the truth and have NEVER set out to dishonestly or deliberately lie or mislead on ANY comment I have made and have always stated I am willing to immediately correct any error I may make with the relevant appology be that in copyright or accuracy terms.
Whilst on the subject of Justice perhaps someone can also explain to me why Nikki Sinclaire was prosecuted at a cost to the tax payers of around £1.5M, with the intent/possibility of a custodial sentence, over £3K and Tom Wise was sent to prison for 2 years over the sum of arouind £25K he was ordered to repay of the total he perloined! Yet the police OLAF the EU the BBC, Times, Telegraph and other MSM have been well aware that having used tax payers' money for their own benefit to the tune of some £11,000 by Ukip MEP Nigel Farage & Ukip MEPJeffrey Titford, £3>5,000 by Ukip MEP Graham Booth, numerous £1,000s by Ukip MEPJanice Atkinson, between £50>100,000 by Ukip MEP Derek Clarke and no doubt others who used tax payers' money for gain some merely paid the money back when caught some paid a part back.
Why is there not a level playing field in matters of Justice – considering the sums involved Farage, Titford, Booth, Atkinson, Clarke and no doubt others should have been prosecuted and sent to prison – why has Justice been deliberately corrupted by the police and CPS?
When will John Ison be prosecuted for the criminality he openly boasted of in Court and even Nigel Farage who was implicated re the efforts to dishonestly and malliciously stitch up Nikki Sinclaire?
As Nikki Sinclaire pointed out on the floor in the EU so called Parliament chamber Nigel Farage funds both his wife & his sometime mistress Annabelle Fuller as staff from the public purse see the following media article:
Farage ordered to repay £80k to EU
British eurosceptic MEP Nigel Farage has been ordered to repay £80,000 to the European Parliament, it has been reported. The institution has objected to the fact that one of his staff, paid by the EU to assist him in his work as an MEP, is also working for UKIP, the party of which Farage was formerly leader. This is against the Parliament's rules.

Whilst not denying the facts of the matter, Farage has defended his position by claiming that the staff member in question was working for the party "on a voluntary basis."

"Without any formal procedure of any kind at all, the letter tells me they're going to take £80,000 from me…. And it's now my job to prove my innocence and so what we're actually dealing with here, these unelected people are behaving frankly like people back in Stalin's day did." he said.

This will not the first time that money has been reclaimed from UKIP MEPs by the European Parliament for such a breach of the rules.

The employment of party officials through the members assistance allowance is in fact a very common practice amongst MEPs of all nationalities: Marine Le Pen has also been caught out recently, and UKIP is certainly not the only British party to have done this.

There are other ways in which EU funded staff can be deployed to other purposes. During the 2004-2009 legislature, the Independence & Democracy Group, of which Farage was co-President, was found to be employing staff, and even providing office facilities, to a privately owned media company – the principle of that company being the wife of Farage's fellow co-President at the time, Jens Peter Bonde.

In March 2014, then MEP Nikki Sinclaire caused uproar in the Parliament when she accused Farage of employing both his wife and his former mistress out of his European Parliament allowances.

Employing one's spouse was, at the time, both widespread and legal. Now it is a banned practice. However, as is often the case in the EU institutions, when one loophole closes another opens up, and at the beginning of the current legislature Farage's wife was found to be employed by a fellow UKIP MEP, one Raymond Finch. During the 2009-2014 legislature, Finch himself had been employed by…… Nigel Farage!
To view the original of this article in full CLICK HERE
Why haven't Gerard Batten, the Police, CPS, the judge and various lawyers been prosecuted for what was described in Court Documents (March 2011) as 'Criminal Conspiracy to pervert the course  of Justice (against Jasna Badzak)'.
– I will provide a copy of the official summary of the Court document shortly and complete this article at that stage – but right now I'm off to deal with other commitments whilst the sun shines 😉 I may even re-read this article and correct my typos (fat finger syndrome) !!!!!!!!!
I'm back, here is the relevant .pdf:
BADZAK, Jasna REGINA vs Mar 2015 – 01
In conjunction with CPS-LETTER Sep-2015 – 01
Clearly the Courts, CPS & plaintiffs accepted that the contentions made in Jasna Badzak's defence submission were substantially correct!
Here below is the MSM article of 01-Feb-2017 posted on this website at the time:
Nigel Farage among Ukip MEPs accused of misusing EU funds
Eight Ukip MEPs including Paul Nuttall may be forced to repay £500,000 if they are found to have breached EU funding rules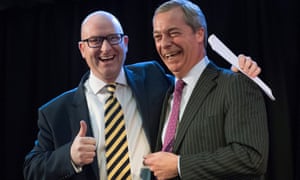 Nigel Farage, Paul Nuttall and six other Ukip MEPs are under investigation by the European parliament for alleged misuse of funds, which could lead to repayment demands totalling £500,000.

Financial controllers are looking into eight of Ukip's 20 MEPs, who are suspected of having broken rules that ban full-time EU-funded parliamentary assistants from working for the national party.

It is understood that Farage and his fellow Ukip MEP Raymond Finch will be asked to repay around £84,000 paid to their joint assistant, Christopher Adams, who is also Ukip's national nominating officer. Adams is described as one of the party's "key people" on its website. Parliament officials have suspended Adams's contract because they are not convinced he was working as an MEP assistant.

Under EU rules, full-time MEP assistants are not allowed to do paid work for a national political party; part-time assistants need to have second jobs, paid and voluntary, vetted by European parliament authorities to prevent a conflict of interest.

Financial controllers are investigating the work of several other MEP assistants, where they suspect a conflict of interest between their EU-paid job and national party role. It is understood three of the assistants worked for Nuttall, who is vying to become Ukip's second MP in Westminster in the Stoke-on-Trent Central byelection later this month.

Each of the European parliament's 751 MEPs is entitled to €23,400 a month to pay for staff to run offices in Brussels and their home constituencies, plus a further €4,342 in office expenses. If Ukip MEPs had claimed the full allowance in 2016, the total sums involved would have been €7.3m.

Farage's wife, Kirsten, is caught up in the investigation because she was paid as an MEP assistant while running her husband's office for the national party.

Kirsten Farage was named as an assistant to Finch, who represents the party in the south-east of England. He has been asked to repay more than £20,000 over her employment because the European parliament's financial controllers were not convinced she was doing real work as his assistant.

Finch employed Kirsten Farage in his constituency office to do secretarial work between 2014 and 2016. During the same period, she was full-time office manager for her husband, according to European parliament information.

Roger Helmer, a Conservative defector known for his controversial remarks on climate change and rape, faces a repayment bill of about £95,000 for employing the Ukip chairman, Paul Oakden, as his assistant. Oakden, who held the post of party director while working for Helmer, emerged into the spotlight last autumn as he sought to steady the party during the rocky period of the leadership contests to replace Farage.

One source estimated that Ukip MEPs could be asked to repay about £500,000 in EU funds if the party is shown to have broken the rules in each case currently under investigation. It is understood that the other MEPs being investigated are Jonathan Arnott, Louise Bours, James Carver and Margot Parker.

A Ukip spokesman rejected the allegations. "We have been here [as elected MEPs] since 1999 and have scrupulously applied the rules of the European parliament with very few problems. It would appear that post-Brexit there is an element of vindictiveness in the way in which the European parliament is behaving.

"We are appealing each and every one of the allegations that have been made."

Helmer, who faces the largest bill known so far, said the parliament administration had "mistakenly" got the idea that Oakden worked for him full time. "So far as I am concerned there is no case to answer – merely an administrative misunderstanding to resolve."

If MEPs refuse to repay misspent funds, parliament can withhold up to half their annual salaries (€79,332 a year after tax) and daily allowances (€52,104 a year), until the money has been recouped.

The European parliament's financial controllers began the latest checks after a separate investigation revealed that a Ukip-dominated group in the institution had misspent more than €500,000 of EU money. The Alliance for Direct Democracy in Europe, a Ukip-controlled pan-European party, was found to have spent EU funds on Nigel Farage's failed attempt to win a seat in Westminster, flouting the ban on using European money for national campaigns.

Parliament is considering extending its investigation to the 2009-14 legislature, when Ukip had 13 MEPs. The current inquiry covers the current parliament, elected in June 2014.

Ukip is not the only party accused of misspending EU money to fund its national activities. The leader of France's far-right Front National, Marine Le Pen, was last year ordered to repay €339,000, after the EU's anti-fraud office, Olaf, found she had misused EU funds following a European parliament inquiry. The French presidential hopeful had received EU funds to pay the salaries of two assistants, but the anti-fraud watchdog said the pair worked almost entirely for the national party.

The FN leader missed a deadline at midnight on Tuesday to repay the money and now faces losing half her salary and allowance. Le Pen has denied allegations of fraud and says she will not "submit to persecution" by repaying the money.

The European parliament has played a vital role in Ukip's political success, giving the Eurosceptic party a platform and funding it has never matched on the domestic stage.

A spokesperson for the European parliament declined to comment on the ongoing investigation. Olaf referred questions back to the European parliament.

Nicholas Aiossa, a campaigner at Transparency International, said the Ukip case may need to be referred to the EU anti-fraud office. "Recovery of these funds is essential, but the parliament needs to take a harder look at whether MEPs have been intentionally engaging in fraudulent activities and if so they should refer these cases to Olaf."
To view the original of this article CLICK HERE
My original article of 01-Feb-2017 can be seen CLICK HERE
Regards,
Greg_L-W.
~~~~~~~~~~#########~~~~~~~~~~
Posted by: Greg Lance-Watkins
tel: 44 (0)1594 – 528 337
Calls from 'Number Withheld' phones Are Blocked
All unanswered messages are recorded.
Leave your name & a UK land line number & I will return your call.
'e'Mail Address: Greg_L-W@BTconnect.com
DO MAKE USE of LINKS,
The Top Bar >PAGES<
I try to make every effort to NOT infringe copyrights in any commercial way & make all corrections of fact brought to my attention by an identifiable individual
Please Be Sure To
.
.
Re-TWEET my Twitterings
To Spread The Facts World Wide
~~~~~~~~~~#########~~~~~~~~~~