DO MAKE USE of LINKS,
>SEARCH<
&
>Side Bars<
&
Also: The Top Bar >PAGES<
~~~~~~~~~~#########~~~~~~~~~~
#Paul_Nuttall Ducks Out In #Stoke After #Liverpool's
Mayor Demands His Resignation over #Hillsborough …
~~~~~~~~~~#########~~~~~~~~~~
Posted by:
Greg Lance – Watkins
Greg_L-W
eMail: Greg_L-W@BTconnect.com
https://InfoWebSiteUK.wordpress.com
~~~~~~~~~~#########~~~~~~~~~~
.
Hi,
Ukip's Paul Nuttall fails to turn up for hustings in Stoke amid Hillsborough controversy
Absence comes after Mayor of Liverpool called on MEP to resign over Hillsborough claims
Thursday 16 February 2017 16:30 GMT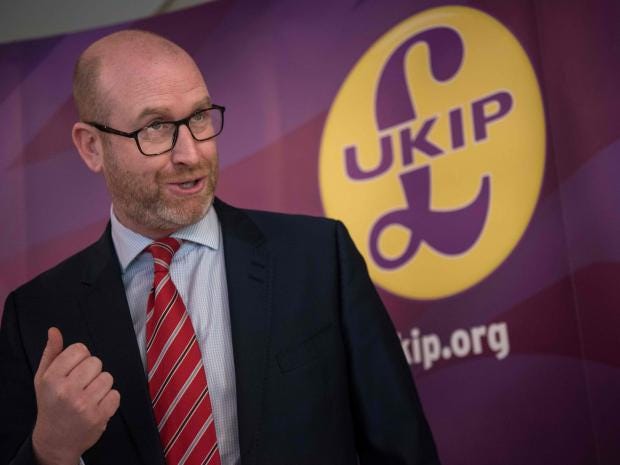 Ukip leader and Stoke by-election candidate Paul Nuttall has failed to turn up for a hustings just a week before the vote, amid ongoing controversy over claims surrounding the Hillsborough disaster.

Ukip MEP Patrick O'Flynn appeared to stand in for Mr Nuttall alongside the other candidates, which include Labour's Gareth Snell, Conservative Jack Brereton and Lib Dem Zulfiqar Ali.

The Independent understands Ukip headquarters were unaware of Mr Nuttall's absence at the event.

In a statement, Ukip said: "Mr Nuttall is taking part in this evening's BBC Radio Stoke hustings, and is, has been and will continue to be talking to media and the people of Stoke Central. 

"He was delighted that Patrick O'Flynn was able to represent him this morning. Any suggestions that he is avoiding the media is farcical."
It comes after the Mayor of Liverpool called on Mr Nuttall to resign as an MEP for the North West of England after he admitted claims on his website about losing "close personal friends" in the Hillsborough disaster were untrue.

Joe Anderson said the city "would not tolerate" anyone trying to exploit the tragedy in which 96 Liverpool football fans died after been crushed and trampled in the away end of Hillsborough stadium in Sheffield in 1989. He said Mr Nuttall should "explain himself to the people of Liverpool" rather than seek to become the new MP for Stoke-on-Trent.

Mr Nuttall seems to have gone quiet in the wake of the controversy. His website has been taken offline for "scheduled maintenance" and his Twitter account has been silent since Monday.

The Ukip leader has attracted fierce criticism for claiming he was a Hillsborough survivor, despite a teacher at his school at the time and members of the Hillsborough Family Support Group saying they had no recollection of him attending the match.

Mr Nuttall has continued to insist he was there, but said that a claim on his website that he had lost "close personal friends" in the disaster was untrue.  He clarified that he had lost "someone he knew" and said the claim had been put on his website without his knowledge. 

His long-serving press officer, Lynda Roughley, offered to resign over the scandal – taking full responsibility for the claim and saying, "Paul is a man of great integrity and would not say something he knew to be untrue".
To view the original article CLICK HERE
For more on this subject CLICK HERE & HERE & HERE & ALSO HERE & CLICK HERE
Regards,
Greg_L-W.
~~~~~~~~~~#########~~~~~~~~~~
Posted by: Greg Lance-Watkins
tel: 44 (0)1594 – 528 337
Calls from 'Number Withheld' phones Are Blocked
All unanswered messages are recorded.
Leave your name & a UK land line number & I will return your call.
'e'Mail Address: Greg_L-W@BTconnect.com
DO MAKE USE of LINKS,
>SEARCH<
&
>Side Bars<
&
The Top Bar >PAGES<

Also:

ABOUT ME, Details & Links: CLICK HERE
Accuracy & Copyright Statement: CLICK HERE
UKIP Its ASSOCIATES & DETAILS: CLICK HERE
Leave-The-EU Referendum & BreXit Process CLICK HERE
Documents, Essays & Treaties: CLICK HERE
The Hamlet of Stroat: CLICK HERE
Data & The Study of a Wind Turbine Application: CLICK HERE
Des Watkins DFC; CdeG: CLICK HERE/
The Speculative Society of Edinburgh: CLICK HERE
Stolen Kids, Dunblane: CLICK HERE
Stolen Kids, Bloggers: CLICK HERE
Views I respect & almost Totally Share: CLICK HERE
A Concept of Governance Worthy of Developement: CLICK HERE
Skype: GregL-W
TWITTER: @Greg_LW
NB:
I NEVER post anonymously on the internet
ALL MY BLOGS & WEB SITES are clearly sourced to me
I do NOT use an obfuscated eMail address to hide behind
I do NOT use or bother reading FaceBook
I DO have a Voice Mail Message System
I ONLY GUARANTEE to answer identifiable eMails
I ONLY GUARANTEE to phone back identifiable UK Land Line Messages
I do NOT accept phone calls from witheld numbers
I Regret due to BT in this area I have a rubbish Broadband connection
I AM opposed to British membership of The EU
I AM opposed to Welsh, Scottish or English Independence within an interdependent UK
I am NOT a WARMIST
I do NOT believe the IPCC Climate Propaganda re Anthropogenic Global Warming
I AM strongly opposed to the subsidy or use of failed technologies eg. WIND TURBINES
I AM IN FAVOUR of rapid research & development of NEW NUCLEAR technologies
I see no evidence to trust POLITICIANS at any level or of any persuasion
I do NOT believe in GODS singular or plural, Bronze Age or Modern
I value the NHS as a HEALTH SERVICE NOT a Lifestyle support
I believe in a DEATH PENALTY for serial or GBH rape.
I believe in a DEATH PENALTY for serial, terrorist, mass or for pleasure murder.
I believe in a DEATH PENALTY for serial gross child abuse including sexual.
I do NOT trust or believe in armed police
I do NOT believe in prolonging human life beyond reasonable expectation of sentient participatory intellectual existence
I believe in EUTHENASIA under clearly defined & legal terms
I try to make every effort to NOT infringe copyrights in any commercial way & make all corrections of fact brought to my attention by an identifiable individual
Re-TWEET my Twitterings
To Spread The Facts World Wide
~~~~~~~~~~#########~~~~~~~~~~