Speaking to the Telegraph, Farage said he now has global ambitions beyond the Eurosceptic party, including negotiating trade deals with the US president-elect, Donald Trump, and finding a solution to the Middle East conflict.
The MEP, who also hinted he will attempt to make his eighth bid for a seat in parliament despite seven unsuccessful runs, said he was happy to continue to be a public face while Ukip's new leader, Paul Nuttall, ran the party.
"I am having a great time," he said. "I am not having to deal with low-grade people every day. I am not responsible for what our branch secretary in Lower Slaughter said half-cut on Twitter last night – that isn't my fault any more. I don't have to go to eight-hour party executive meetings.
"I don't have to spend my life dealing with people I would never have a drink with, who I would never employ and who use me as a vehicle for their own self-promotion. There are a lot of great people in Ukip. The problem is that Ukip has become a bit like the other parties: people view it as a means to get elected."
Farage said his years as Ukip leader had meant he had sacrificed much of his earning potential. "I have no regrets about being poor," he said of his MEP's salary. "I don't drive smart cars, I don't go on fancy holidays. All my money has gone on my kids' education."
Farage, who was the first British politician to meet Trump after his election victory, said he still hoped he could have a role to play in the US-UK relationship.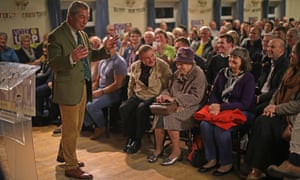 Downing Street has insisted he would not have any formal role whatsoever, despite the president-elect tweeting that he believed Farage should be the UK's next ambassador to Washington.