Ukip Loses Its London Offices & Its Deposit In Witney Bye Election!
Posted by Greg Lance - Watkins (Greg_L-W) on 21/10/2016
~~~~~~~~~~#########~~~~~~~~~~
Ukip Loses Its London Offices & Its Deposit In Witney Bye Election!
~~~~~~~~~~#########~~~~~~~~~~
Posted by:
Greg Lance – Watkins
Greg_L-W
eMail: Greg_L-W@BTconnect.com
~~~~~~~~~~#########~~~~~~~~~~
.
To Spread The Facts World Wide
Clean EUkip up NOW make UKIP electable!
.
The corruption of EUkip's leadership,
their anti UKIP claque in POWER & the NEC
is what gives the remaining 10% a bad name!
.
.
Hi,
Ukip without an HQ after leaving its central London base amid claims of financial difficulties
'We're in peace time now – not war time,' a spokesman for the party said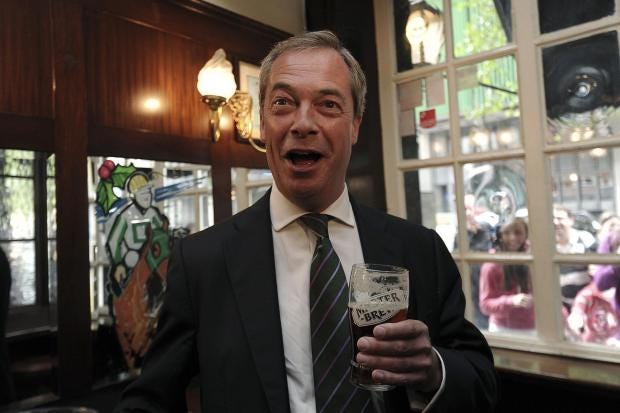 Ukip insiders have confirmed the party has vacated its central London office and no one has "bothered looking for a new one", leaving the troubled party without a headquarters.

A spokesman for Ukip told The Independent that while the party made use of the large office on Great Smith Street, Westminster, during the EU referendum campaign, it would now be "deeply irresponsible" to continue using members' money to fund it, given the reduced operation and staffing.

"We're in peace time now – not war time," they added, confirming they left the premises early last week. 

The Independent understands that a decision on relocating to a new office falls with the leader of the party and, as a result, it could be before the end of November before a new headquarters is found for the Eurosceptic party.

The party spokesman also dismissed suggestions they had been "kicked out" of their central London offices for financial reasons, adding that it was a "silly" claim and that some people are "talking through their hats".  

Raheem Kassam, who has put his name forward for the party's leadership, and, importantly, has his own office in Westminster, added: "I've got no reason to pretend Ukip has more money than it does – but Ukip is not destitute."

Mr Kassam said the landlord of the property in central London had "terminated the contract" and the party had not "bothered looking for a new one" while everyone was concentrating their efforts on the recent leadership contest.

One senior party source added that while they would "quite like" an office they were happy, for the time being, with their own "filing cabinet and a computer attached to the internet".

"I don't need six desks – I may be fat and messy, but I don't need six desks."

The party has been consumed with chaos in recent weeks after the newly elected leader Diane James resigned after just 18 days in the job, saying she had enjoyed members' support but not party colleagues. Then Steven Woolfe, who was favourite to take the reins of the party, dramatically quit the party, branding it "ungovernable" and in a "death spiral".

Mr Woolfe – who spent three nights in hospital after a row with a party colleague – said he was resigning from a party that had "elected politicians fighting each other". And in recent days it has been reported that one of the party's biggest donors, Aaron Banks, has been threatening to walk away.

A friend of Mr Banks told the Telegraph the millionaire is "absolutely" considering leaving the party, adding: "Now it is up in the air. He is not going to put any money in now – he is sick of it, absolutely sick of it."
To view the original article CLICK HERE
Regards,
Greg_L-W.
~~~~~~~~~~#########~~~~~~~~~~
Posted by: Greg Lance-Watkins
tel: 44 (0)1594 – 528 337
Calls from 'Number Withheld' phones Are Blocked
All unanswered messages are recorded.
Leave your name & a UK land line number & I will return your call.
'e'Mail Address: Greg_L-W@BTconnect.com
DO MAKE USE of LINKS,
>SEARCH<
&
>Side Bars<
&
The Top Bar >PAGES<

Also:

ABOUT ME, Details & Links: CLICK HERE
Accuracy & Copyright Statement: CLICK HERE
UKIP Its ASSOCIATES & DETAILS: CLICK HERE
Leave-The-EU Referendum & BreXit Process CLICK HERE
Documents, Essays & Treaties: CLICK HERE
The Hamlet of Stroat: CLICK HERE
Data & The Study of a Wind Turbine Application: CLICK HERE
Des Watkins DFC; CdeG: CLICK HERE/
The Speculative Society of Edinburgh: CLICK HERE
Stolen Kids, Dunblane: CLICK HERE
Stolen Kids, Bloggers: CLICK HERE
Views I respect & almost Totally Share: CLICK HERE
A Concept of Governance Worthy of Developement: CLICK HERE
Skype: GregL-W
TWITTER: @Greg_LW
NB:
I NEVER post anonymously on the internet
ALL MY BLOGS & WEB SITES are clearly sourced to me
I do NOT use an obfuscated eMail address to hide behind
I do NOT use or bother reading FaceBook
I DO have a Voice Mail Message System
I ONLY GUARANTEE to answer identifiable eMails
I ONLY GUARANTEE to phone back identifiable UK Land Line Messages
I do NOT accept phone calls from witheld numbers
I Regret due to BT in this area I have a rubbish Broadband connection
I AM opposed to British membership of The EU
I AM opposed to Welsh, Scottish or English Independence within an interdependent UK
I am NOT a WARMIST
I do NOT believe the IPCC Climate Propaganda re Anthropogenic Global Warming
I AM strongly opposed to the subsidy or use of failed technologies eg. WIND TURBINES
I AM IN FAVOUR of rapid research & development of NEW NUCLEAR technologies
I see no evidence to trust POLITICIANS at any level or of any persuasion
I do NOT believe in GODS singular or plural, Bronze Age or Modern
I value the NHS as a HEALTH SERVICE NOT a Lifestyle support
I believe in a DEATH PENALTY for serial or GBH rape.
I believe in a DEATH PENALTY for serial, terrorist, mass or for pleasure murder.
I believe in a DEATH PENALTY for serial gross child abuse including sexual.
I do NOT trust or believe in armed police

I do NOT believe in prolonging human life beyond reasonable expectation of sentient participatory intellectual existence

I believe in EUTHENASIA under clearly defined & legal terms

I try to make every effort to NOT infringe copyrights in any commercial way & make all corrections of fact brought to my attention by an identifiable individual
Re-TWEET my Twitterings
To Spread The Facts World Wide
~~~~~~~~~~#########~~~~~~~~~~
This entry was posted on 21/10/2016 at 21:51 and is filed under EU, EUkip, UKIP. Tagged: Arron Banks, GL-W, Greg Lance-Watkins, Greg_L-W, Nigel Farage, UKIP, UKIP HQ. You can follow any responses to this entry through the RSS 2.0 feed. You can leave a response, or trackback from your own site.