The Embarrassment of God's Curse for Homosexuality from UKIP Councillor!
.
To Spread The Facts World Wide
Clean EUkip up NOW make UKIP electable! 
.
The corruption of EUkip's leadership, 
their anti UKIP claque in POWER & the NEC 
is what gives the remaining 10% a bad name!  
.
The Embarrassment of God's Curse for Homosexuality from a UKIP Councillor is just yet another example of the party's unprofessional behaviour as yet again they are exposed as loons – just how pleased must the Tories (at their upper levels) be that UKIP has acted as a syphon to filter off some of their nuttier lower orders, such as the pair who insisted on flaunting GollyWogs, or Victoria Ayling with her National Front links, or this latest in a long list of low grade defectors and Tory rejects like the criminal Neill Hamilton and his ilk!!!
.
~~~~~~~~~~#########~~~~~~~~~~
Huffington Post rather mischievously, and presumably tongue in cheek, linked this embarrassing article for UKIP with the pronouncement by Nigel Farage that UKIP in the upcoming EU elections would cause an earthquake!
The foolish exposure of his superstitions by the ex Tory town councillor David Silvester has led to several quite amusing items on the internet such as: CLICK HERE and a comedy relaunch of 'Its Raining Men' plus the following weather forecast: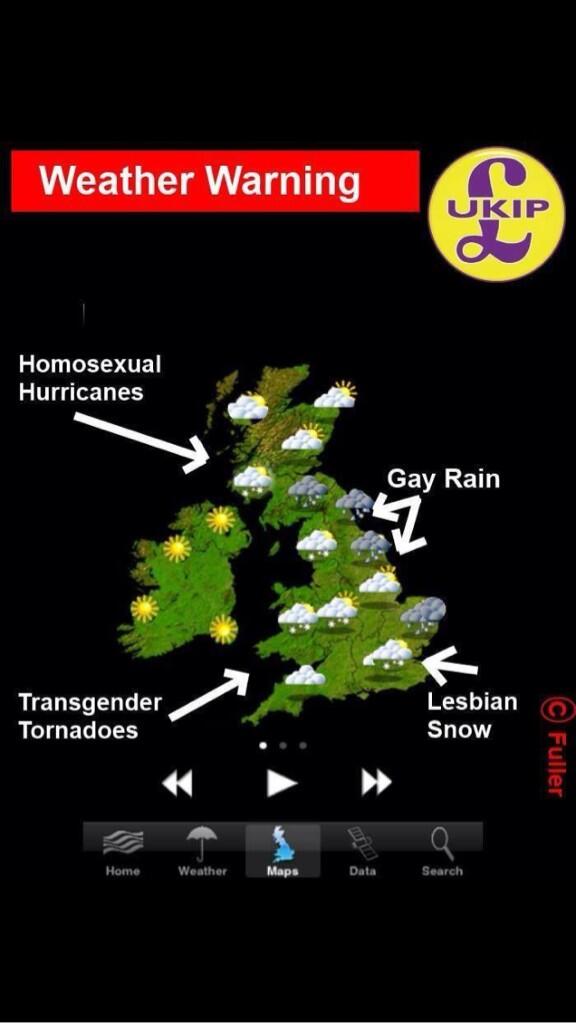 So Huffington Post with their allusion to Farage creating earthquakes as clearly he is seen as something of a god in his own cult was not alone in their parody!
However UKIP's leadership's utterly irresponsible prostitution of the party linking them in Nigel Farage's own creation the extremist, racist, xenophobic, anti homosexual and anti Jewish Pan EU EFD Political Group leaves UKIP with absolutely no wriggle room to deny their overt support of racism – just look at the antics of their vile partners:
This Italian MP Actually Wore Blackface in Parliament
Anti-immigrant debate reaches new low
Youtube
Extreme right-wing politician Gianluca Buonanno steered Italian politics right into

appalling racist buffoonery

 

on Wednesday night. In a protest against supposedly generous benefits to immigrants, he produced a makeup kit in parliament and started to dab his face in order to make it darker.
"To get money, perhaps we all need to make ourselves darker," he told the Chamber of Deputies.
Buonanno's political party, Lega Nord or the Northern League, are notorious for xenophobic tirades, such as their attack on the country's first black minister, Cecile Kyenge, for "favoring negritude."
In the eyes of the U.N., E.U. and several human rights organizations, Italy has harsh procedures for immigrants and refugees.
To view the original of this article CLICK HERE
A GUEST POSTING on Junius handled the story as follows:
UKIP's partners in the EFD political group in the European Parliament, Lega Nord, are known for their extremism, and for the racially motivated violence of their members. 
Now the media are reporting on one of their MPs in Italy, Gianluca Buonanno, 'blacking up' for a racist rant. This comes after a number insults aimed at Italy's only black minister, Cecile Kyengea, a lady of Congolese extraction.
Mario Borgezhio MEP has convictions for attacking a child, and for setting fire to the meagre possessions of a homeless immigrant. Another Lega Nord MEP, Salvini, has called for racial segregation on public transport.
Now all this might seem cowardly – attacking women, children, and the homeless. But let us remember – we are talking about Italians here, people who are not renowned for their heroism.
This is the type of scum that Nigel Farage depends on to keep his political group together. Remember, Lega Nord hold the co-Presidency of the EFD group. 
This is what our forebears fought – and won – a war against in the middle of the last century. Nice people you suck up to, Farage!
Whilst The Telegraph published the following Video Clip at:
CLICK HERE
UKIP's credentials as a racist and xenophobic party are all too clear as Ms. Le Pen makes very clear:
Marine Le Pen says Front National and Ukip 'closer than they would like to admit'
French far-Right party leader Marine Le Pen says Ukip and Front National could join forces to bring down EU
Marine Le Pen, leader of the French far-Right party, has said that Ukip has far more in common with the Front National than it would like to admit and that the two parties could join forces to bring down the EU's "Berlin wall of Brussels".
Speaking from her Paris headquarters, Miss Le Pen, whose party is expected to score well in forthcoming European elections, said Ukip is avoiding an alliance due to "electoral considerations".
"They say they're not in agreement with us. My foot," she told the Telegraph. "OK, we don't have the same economic policies [but] they share our point of view on the European Union and immigration: everyone must control his borders, European technocrats must disappear, the European Soviet Union must collapse, everyone must have their own currency, their economic policy and decide in their own home."
"There are political considerations behind this," she said. "Ukip currently presides its own group and will try to rebuild that group (after the EU elections in May)."
"If they don't manage to create a group again, they will surely not find it a bad idea to join with us."
Nigel Farage, the head of Ukip, ruled out joining forces, stating on Thursday: "We keep getting this every fortnight or so don't we? Look, we've made it clear that we don't intend to do a political deal at any point with French National Front."
"I am sure that a new Eurosceptic group of parties comprising Marine Le Pen and Geert Wilders and others will happen, but Ukip will not be part of it," he has said in the past
"As a strictly non-racist and libertarian party, Ukip will be ploughing our own furrow in Europe with parties with which we are happy to do business and make a stand against the EU's political union."
The FN is just one of several anti-immigration and anti-EU parties gaining ground in Europe, where many have lost faith in the ability of the European Union to help kick start their faltering economies, and Miss Le Pen pledged to do all in her power to facilitate the collapse of the EU.
"How to improve the European Union? By making it collapse. We brought the Berlin Wall down. I want to bring the Brussels wall down," she said.
"I expect one thing only from the European system and that's for it to explode."
"We have to wait for everything to fall flat on its face, contribute to that if possible, to bring about the project of a Europe of free nations," said Miss Le Pen, who is already a European MP.
"And that of course can only happen with the disappearance of a huge majority of current EU structures."
Miss Le Pen has forged an alliance with Dutch anti-Islamic leader Geert Wilders aimed at creating a Eurosceptic block at the European Parliament after elections due in May.
This could also include Belgium's Vlaams Belang, Italy's Lega Nord and Austria's Freedom Party.
"The role that we will have to play – us patriotic elected representatives at the European Parliament – will mainly be to block this federal European Union from making any new headway," she said.
One poll conducted by research firm Ifop suggested the Front National could emerge as the leading party in France's European elections with the backing of 24 per cent of voters.
In Italy, polls have also shown significant support for the Lega Nord, while Austria's Freedom Party finished a strong third in September general elections, with 20.5 per cent of votes.
In a December interview, José Manuel Barroso, EU Commission President, admitted that the rise of populist and extremist parties was a major concern.
"I am vehemently calling on Europeans to step out of the comfort zone, to quit their silence, to not always let extremes make their move, to have – in France too – the courage to defend Europe," he told AFP.
Germany's new foreign minister launched an attack on Thursday on "brainless" Eurosceptics who pose a threat to the existence of the European Union.
Frank-Walter Steinmeier said: "We must not avoid confrontation with populists, nationalists, with these brainless people who call themselves Eurosceptics."
To view the original article CLICK HERE
There are still some amongst UKIP's leading clique and its cabal with so little understanding of politics that they insist on repeating the mantra ' UKIP is not a racist party it even has some black candidates' – displaying that they do not understand politics is all about 'public perception' and UKIP are so unprofessional that they have not even realised this irrefutable fact.
Regards,
~~~~~~~~~~#########~~~~~~~~~~
 INDEPENDENT Leave-the-EU Alliance
Deny the self serving political clique ANY Democratic claims to legitimacy
Write Upon Your Ballot Paper at EVERY election:
Posted by: Greg Lance-Watkins
tel: 01594 – 528 337
DO MAKE USE of LINKS & >Right Side Bar< & The Top Bar >PAGES<
Also:
TWITTER: Greg_LW